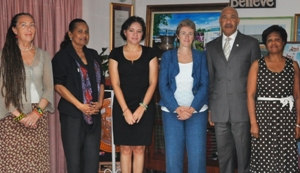 Their Excellencies the Most Honourable Sir Patrick Allen and the Most Honourable Lady Allen were invited to a private screening of the hard-hitting documentary 'Songs of Redemption', hosted by the Delegation of European Union Members in Jamaica.
The documentary features several inmates at the Tower Street Adult Correctional Facility, who are participating in the EU-funded Rehabilitation Programme. It documents the lives of the inmates; actions that have led to their current circumstances and how the porgramme is transforming their lives through the creative arts, particularly music and poetry.
The hour-long documentary exposed some of the critical conditions under which convicted felons must serve their sentences; one such condition being the lack of proper facilities to accommodate basic everyday needs.
There were touching scenes; an inmate's recollection of his actions leading up to his incarceration tells the story of a troubled remorseful soul.
"I went across the river with the rope to kill myself' he recalled 'But I was drinking and smoking and fell asleep. When I woke up and realized that I killed the mother of my child, the woman I loved, I cried and turned myself in at the police station," the inmate recalled. Yet for this inmate, serving time in prison could not compare to the horrible beating he received from his father and then the tortuous punishment of being soaked in salted water shortly afterwards.
According to human rights activist Maria Carla Gullota, scenes of severe break down occur regularly behind the walls of this correctional facility. She shared that shortly after the filming of the documentary, one of the featured inmates was on the brink of committing suicide.
Yet amidst these challenges are success stories. One inmate after serving his sentence is now teaching music at the Alpha Boys Home in Kingston, while another have has made peace with the family of his victim through restorative justice. These stories are proof that the rehabilitation programme at the Tower Street Correctional Facility is improving the lives of individuals serving time behind bars.
The Governor-General thanked the members of the delegation for an insightful documentary one he said will guide him in responding to inmates who write to him seeking pardon from their offences.
"I hope those who get to watch this film will understand what coming to prison means. It is a time to reflect and to make right the wrongs that they have done, especially considering the conditions they will have to endure" said the Governor-General.