Bustamante Hospital for Children today (November 6) celebrated its 50th Anniversary and to mark the momentous occasion, Governor-General His Excellency the Most Honourable Sir Patrick Allen and Her Excellency the Most Honourable Lady Allen, advanced their annual visit to the hospital in acknowledgement of the value they place on the only paediatric hospital in Jamaica.
Their Excellencies toured  wards 1 and 4 of the hospital where they spent quality time interacting with patients and handing out gifts of stuffed toys and books to the children in hope of easing the burden of their stay at the Hospital. This was followed by a Health Fair, cutting of a 'birthday cake', and releasing of fifty blue and yellow balloons.
The Governor-General in giving his address at the opening ceremony said that "what the Bustamante Hospital for Children has achieved despite the challenges of Jamaica's economy is a success story which should not be taken for granted. "Therefore, I welcome this Health Fair and Open Day as a means of drawing the attention of the entire nation to the vast range of high quality, specialized care for children which you offer," the Governor-General said.
He praised the hospital for the work it has been doing with Chain of Hope (UK), the Caribbean Heart Menders and Congenital Heart Institute of Florida, International partnerships whom he said has helped in giving children a new lease on life and has brought hope to many families. He took the opportunity to reiterate their commitment to the hospital and commended the institution for its high standards and for "building on your achievements as you strive toward your objective of being a world class provider of paediatric health services," said Sir Patrick Allen.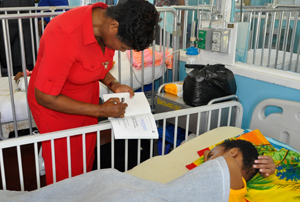 Mr. Lyttleton Shirley, Board Chairman of the South East Regional Health Authority in his remarks was particularly grateful to the Governor-General and Lady Allen for the support they have given the hospital over the years. Mr. Shirley noted that the hospital has a lot to be proud of and highlighted some its rare services such as: 24 hrs diagnostics service, a parent overnight suite, the only burn unit for children as well as the most modern cardiac wing in the Caribbean. "Today we celebrate this memorable milestone of 50 years! The Bustamante Hospital for Children has a lot to be proud of," stated Mr. Shirley.
Other guests who were in attendance at the ceremony were: the Hon. Julian Robinson, Member of Parliament for St. Andrew South Eastern, the Honourable Marigold Harding, Custos Rotulorum for the parish of St. Andrew, the Honourable Steadman Fuller, Custos Rotulorum for the parish of Kingston among others.
The official visit of Their Excellencies ended after touring the display booths set up by various agencies and organizations including friends and sponsors of the hospital.