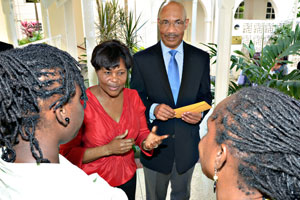 In keeping with the spirit of Christmas, a needy family residing in the Kingston 20 area was presented with gifts by Their Excellencies, Governor-General, His Excellency the Most Hon. Sir Patrick Allen and Lady Allen, at a ceremony at King's House Friday (December 16).
The Welch's* received a 12 cubic foot refrigerator, fabrics, ground provisions and cash, courtesy of members of the King's House staff and Kingston Bookshop.
In his brief remark, Sir Patrick said that giving back to the less fortunate in society is a critical component of nation building, not only during Christmas, but throughout the year.
"We feel that if it is the season, and someone is in need, we should assist in helping to alleviate some of the difficult circumstances and situations under which people operate," he said.
The family was selected after writing a letter to the Governor-General describing some of the challenges they were facing. He noted that the letter "touched" his heart and, after consulting with Lady Allen, networking was undertaken to ensure that the family was assisted.
Lady Allen said that even though only one family was selected, what was done was critical and, over time, they would hope to assist others.
"In the letter, she not only ask for something, but she told us (about) the skill that her mother was able to do, and asked if we could give her the fabric so she could make curtains and cushions, because those are the things she does well," she said.
Lady Allen said that, next week, additional supplies will be received from Lasco Limited to donate to the family, adding that arrangements have been made with the Jamaica National Building Society (JNBS) for the lodgment of cash donations.
Rosie Welch*, who wrote the letter on behalf of herself and her mother, thanked Their Excellencies and supportive the entities – the staff of King's House, Newport Fersan, Pings Fabric, Kingston Bookshop and LASCO – for their assistance.
*Names have been changed to protect identity.