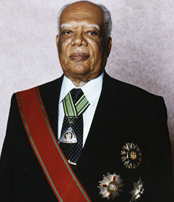 August 7 and 8, 2014 have been declared as the official days of mourning for former Governor-General the late Sir Howard Cooke.
According to the release from the Office of the Prime Minister, the Lying-in-State for the public will take place from 10:00 a.m. to 5:00 p.m. on Tuesday, August 5 at the Cultural Centre, Sam Sharpe Square in Montego Bay, and on Thursday August 7, 2014 at the Mico University College in Kingston.
Click here for additional information.