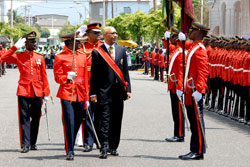 Governor-General Sir Patrick Allen has appointed Mr. Errol Vaughan Johnson JP, as Custos Rotulorum for the parish of St. Mary with effect from June 23, 2015.  He was sworn in at a brief ceremony held at King's House.  Mr. Johnson has been acting as Custos of St. Mary since August 2014 when former Custos the Hon. Jeffrey McKitty was granted leave of absence.  Custos McKitty died earlier this year after a period of illness.
Sir Patrick Allen said he was very proud of the stellar service given by Custos Johnson during his acting appointment and expressed confidence that St. Mary would be in safe hands.  "We know that St. Mary is in safe hands as demonstrated by your leadership.  I am aware of the transformative work that you have been doing in the educational sector and primarily at St. Mary High School, and look forward to a transference of that approach to the parish at large," he stated.
Born in St. Mary, the Hon. Errol Johnson was educated at the University of the West Indies (Mona) and the
University of Rajasthan in India.  He is a Lieutenant Colonel in the Jamaica Combined Cadet Force and is the acting principal of Islington High School.  His formal installation as Custos of St. Mary will take place in the parish at a later date.