Governor-General Sir Patrick Allen has presented six Jamaicans from the Diaspora regions of Canada, the United Kingdom and the United States of America with the 2015 Governor-General's Achievement Award (GGAA) for the Diaspora.  The awards were presented at the 6th Biennial Jamaica Diaspora Conference.  The recipients are Michelle Brumley and Kingsley Gilliam from Canada, Nathaniel Peat and Gloria Leslie from the United Kingdom and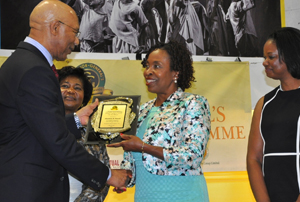 Lisa Soares and Claudette Powell of the USA.  Included among the awardees are three Jamaicans under the age of thirty-five who were recognized for their accomplishments in the Diaspora.
In his remarks Sir Patrick Allen appealed to Jamaicans in the Diaspora to continue to strive for excellence and help change the profile of Jamaica.  "I believe that all of here this afternoon speak the same language of service, integrity and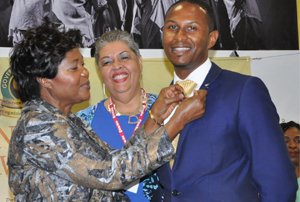 good neighbourliness.  Let us become more visible at home and in the Diaspora so that ours will be the profile which defines Jamaica."
He noted that the Conference is taking place at a time of heightened concern for children and youth in Jamaica, with frequent reports of missing children who, it is feared, may have been trafficked.  "We have all been distressed by the violence meted out against our children and the abuse which too many
continue to suffer.  Even one child who dies abused is one too many," the Governor-General said.
He praised the work being done by the various public agencies and also welcomed social bodies, religious groups and service clubs that have heeded the call for Jamaicans to unite in the protection of our children.  "They have stepped up their defence of children's rights and are strengthening their actions to protect our
children and curtail the impunity of perpetrators," he stated
Sir Patrick Allen urged support from the Diaspora for the Back2Life project by the Rotary Club of Kingston and Hands Across Jamaica's 'Sponsor a Child programme,' both of which are endorsed by the Governor-General's I Believe Initiative (IBI).  He also commended Diaspora groups in Canada and Florida for their support of an appeal for scholarship to enable young people to take advantage of training in animation at UWI-CARIMAC. "Thanks to all of you who have been volunteering in, or supporting community projects, especially those which involve children and youth," he told delegates.