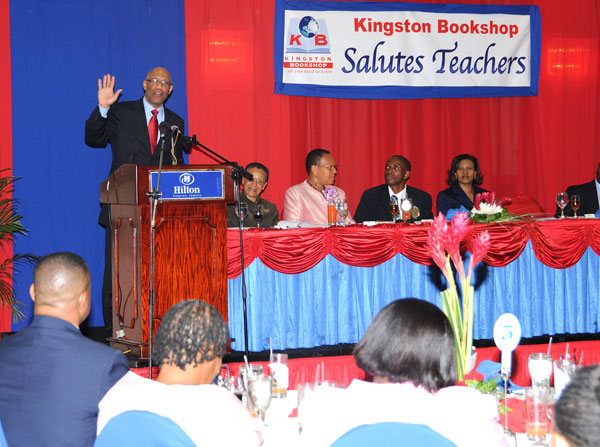 Governor General, His Excellency, the Most Hon. Dr. Patrick Allen, has urged more training of persons for the productive sector, if Jamaica is to rebound after the global economic crisis has ended.
"It is very important that we train individuals to function in the productive sector. unless we do this, as a country, we will continue to encounter difficulties," he said.
The Governor General was speaking at the Kingston Bookshop Teachers' Luncheon, at the Hilton Kingston Hotel, today (May 5).
Dr. Allen also praised the nation's educators for their contribution to nation building, stressing their role in shaping the lives of future leaders.
"Teaching is not just a process that takes place in the classroom. The students you teach move on to take charge of our nation, tomorrow. They carry the torch that you light in their hearts and minds, as they become the movers and shakers of our world, tomorrow," Dr. Allen said.
He noted that teachers have the responsibility to shape the minds of students because, like parents, they provide an "umbilical link" with young people.
"And what a teacher says to a child, can influence the life of that child negatively or positively, forever. They will always take a piece of you with them," he commented.
He encouraged teachers to be more understanding of students who may be deemed rude or troublesome, as they may be going through difficulties.
"We have to be more sympathetic to the situations and understand that this (classroom) may be the only place where they can be their true selves, and not cast them out as troublemakers," he said.
"I urge you to continue the hard, yet rewarding job of educating our children and help to build a brighter and better future for Jamaica, through our children and the heritage that we pass on to them," he said.
He also commended the Kingston Bookshop for its "singular and proactive role" in recognising the position that teachers hold in shaping the minds and attitudes of young and old alike in society.
He noted that the company, through its industry and commitment, as part of its corporate social responsibility, has been making significant contributions to education, not only through the sale of books, but by enhancing schools' infrastructure.
The Kingston Bookshop has been hosting Teachers' Luncheons since 1988, and honouring educators who have served the nation.
This year's awardees were: Vice Principal of Wolmer's Boys' School, DeAnne Robb; Principal of Lyssons Primary School, Ena Barclay; Principal of Ardenne High School, Esther Tyson; and President of the Jamaica Independent Schools' Association, Basil Tabanor.