Sir Patrick Allen told Governor-General's Achievement Awardees (GGAA) for the County of Middlesex that their accomplishment can only be matched with the pride and joy he feels for our athletes' performances in the IAAF Championships on in Beijing, China.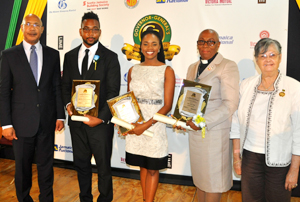 In his remarks to the 14 recipients who copped the prestigious award, Sir Patrick Allen stated that, "It is very refreshing to have you here to celebrate what is right with Jamaica even though there is so much concern and grief over the crime wave which is sweeping across the country."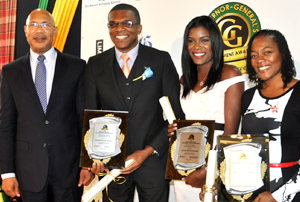 "The individual achievement of each of you being honoured underscores the relevance of the 2015 GGAA theme: Values through Volunteerism: Impacting Communities One Community at a time," he further stated.
The recipients who are from the parishes of Manchester, St. Ann, St. Mary, St. Catherine and Clarendon have done exceptional work in building their communities, exemplifying good moral character and educational attainment and were feted in a ceremony held at the Wembley Centre for Excellence in Hayes, Clarendon yesterday (Thursday, August 27).
The Governor-General also used the platform to extend congratulations to the families of Othneil Nichols and Gavane Palmer, from the parish of Clarendon, who copped a gold medal in the 1500 metres and bronze in division three of the half marathon, respectively, at the Special Olympics, recently concluded in California.
The Governor-General's Achievement Awards is one arm of the Governor-General's Programme for Excellence which consists the I Believe Initiative, and is founded on the belief that there is nothing wrong with Jamaica that cannot be fixed by what is right with it. 
The Governor-General's Achievement Awards for the county of Surrey will be held at the Jamaica Conference Centre in Kingston September 23, 2015.