His Excellency the Most Honourable Sir Patrick Allen Governor General has inducted Mr. Howell Burke, an extraordinary 104-year old retired Justice of the Peace, Former Teacher and Retired Police a honourary I Believe Initiative (IBI) member. The event took place in a courtesy visit to the centenarian's home in the rural farming district of Tommy King, Rock River, Clarendon on Wednesday (April 27, 2016).
Smartly dressed, donning his badges of distinction received as a member of the Jamaica Constabulary Force, Mr. Burke stood and in clear audible voice, warmly greeted His Excellency, upon arrival, "Good morning Your Excellency, welcome."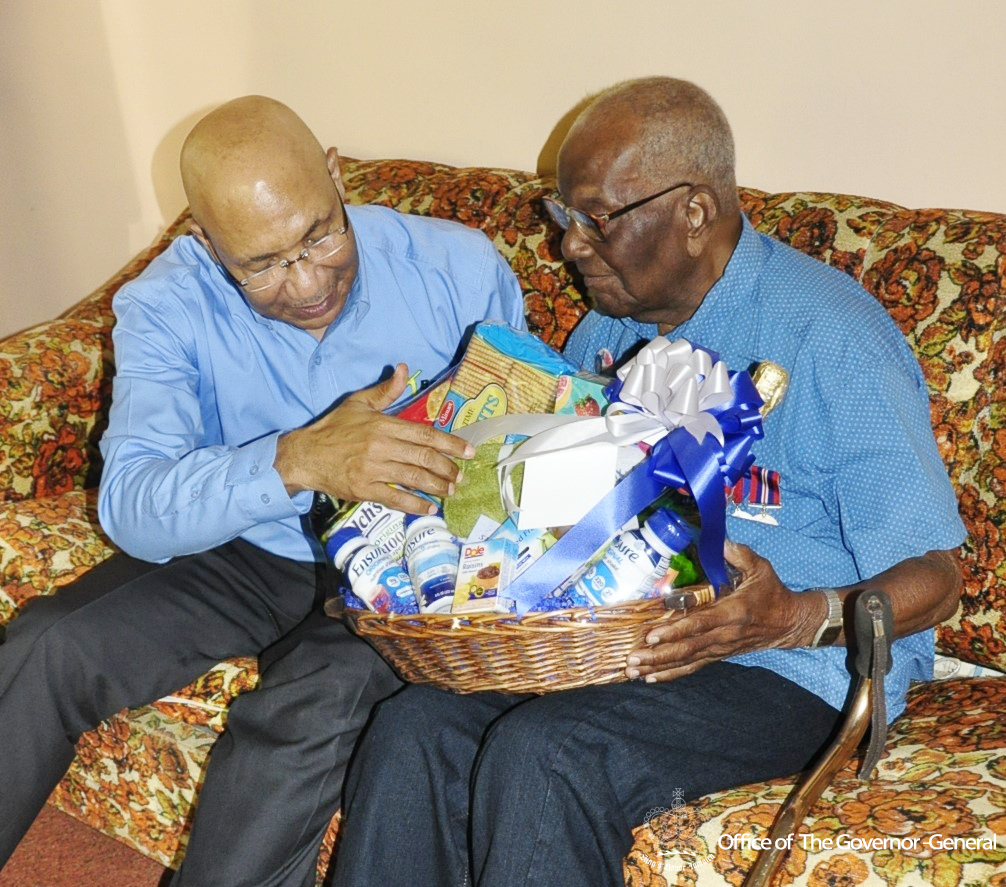 Following a polite and coherent conversation in which Mr. Burke recalled watershed moments in his life and in Jamaica, The Governor General declared, "Mr. Burke, God must have his purpose for keeping you alive and I hope that those of us listening to you this morning can get a sense of encouragement from your life."
"Today, I am inducting you as part of the IBI and I want everybody to understand that they should believe in themselves no matter what age they are, and that they can help somebody," His Excellency continued, while presenting Mr. Burke with IBI memorabilia and gift items.
The declaration was made in the presence of an audience comprising, the Hon. William Shagoury, the Clarendon Custos, rank and file members of the Constabulary Force, students and teachers of the Rock River Primary School, family and friends of Mr. Burke.
"What a day! Today you've made my day Sir. Thank you Your Excellency. You have caused a new chapter to be written about Rock River and this District called Tommy King. I can tell you Sir that this day will never be forgotten by me," was Mr. Burke expression of gratitude.
The Governor- General credits his visit to an initiative of Custos Shagoury, who had the insight to bring Mr. Burke's remarkable story of patriotic service to his attention.
The Governor-General's IBI is part of his two-pronged social programme; The Governor-General's Programme for Excellence (GGPE) which is built on the pillars of family, youth and education. It is anchored in the philosophy that, "There is nothing wrong with Jamaica, that cannot be fixed by what is right with Jamaica."