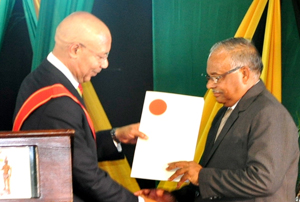 Governor General Sir Patrick Allen installs Col. Errol Johnson custos rotolorum for the parish of St Mary in a ceremony held at the St. Mary High School auditorium in Highgate on Thursday (August 20, 2015).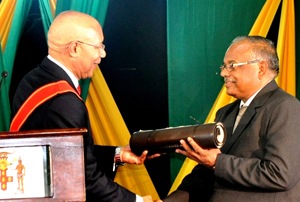 Upon presenting the custos with the Grand Commission and the Magistrates' Roll for the parish, Sir Patrick Allen explained that custodes, "engages in activities that promote the rule of law, public order, and civic pride, and is also responsible for ensuring there are sufficient JPs to give leadership and support in local communities and to preside over meetings of the petty session's court."
He further stated that, "The custos rotulorum is appointed by the governor general on the advice of the prime minister and becomes a non-partisan representative in the parish."
Custos Johnson who is a known educator, who spent over two decades developing St Mary High school into a leading academic institution, was conferred with the Order of Distinction, commander class, during the ceremony.
In an impassioned acceptance speech, the new custos expressed gratitude and called for a return to traditional family values. "Thank you for the confidence entrusted in me with this responsibility on this special day in my journey on Earth. I will do my best to fulfil our dreams for a better tomorrow for this, our beloved country," he stated.
Custos Johnson is acting principal at Islington High school, on account of his stewardship at St. Mary High school and chairman of the St Mary Group of Principals. He is also lieutenant colonel in the Jamaica Combined Cadet Force and was awarded the Badge of Honour for Meritorious Service, and the Prime Minister's Medal of Appreciation for Service to Education.
Custos Johnson was sworn into office two months ago after the death of former custos, Jeffrey McKitty who served the in the post for less than two year.
The installation ceremony was attended by Minister without Portfolio in the Ministry of Transport, Works and Housing Dr Morais Guy, Opposition Senator Robert Montague, Chief Justice Zaila McCalla, other custodies and justices of the peace.