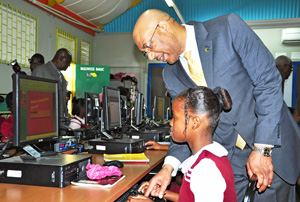 His Excellency The Governor-General, Sir Patrick Allen and Lady Allen on Thursday March 22, resumed their parish tours by visiting the parish of St. James where they interacted with students and teachers at the Spot Valley High School, facilitators and clients at the Flankers Peace and Justice Centre and vendors of the Success Craft market.  Their Excellencies also met with members of the Montego Bay Chamber of Commerce and toured the state-of-the-art Convention Centre.  The parish tours are in celebration of Jamaica's 50th year of independence and are intended to rekindle a sense of pride, confidence and hope in Jamaicans as they mark this milestone achievement.
On his visit to Flankers, the first by a Governor-General, Sir Patrick Allen had words of encouragement for students involved in the centre's homework programme.  He urged them to set high goals and to be patient with each other, adding that they should take advantage of the opportunities available to them.  "Set high goals for yourselves and do not get into mischief. This is the most difficult time of your life, but you will pass through it and you will be fine," the Governor-General said.  "Whatever you can do, do it now; whatever you can learn, learn it now," he added.
Sir Patrick Allen said the perception of Flanker had been changed significantly as a result of mediation, anger management and conflict resolution available through the Peace and Justice Centre.  He commended the facilitators of the Peace and Justice Centre for delivering valuable service that has improved the quality of life of the residents.  "This is a successful model that needs to be understood and replicated in other communities in St. James," the Governor-General stated.   He said the development of the nation has to come from the community and from the activities that take place on the ground.  "Communities have to buy into the larger vision of Jamaica so that we can be a successful nation," Sir Patrick Allen said.
He said visitors to the island believe in Jamaica and we Jamaicans should therefore believe in themselves. "Love each other, support each other and care for each other.  Give of your best to your country," the Governor-General concluded.  The parish tours are slated to conclude in August.