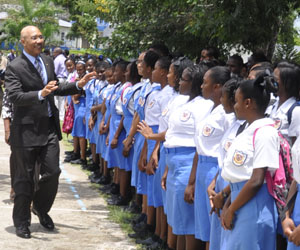 Residents in the parish of St. Mary were treated to a special visit from Their Excellencies the Most Honourable Sir Patrick Allen and the Most Honourable Lady Allen on the occasion of the Governor-General's Annual Parish Tour on Tuesday May 27, 2013.
The Governor-General's first stop at the Iona High school in Port Maria had him playing the role of choir-master igniting an impromptu rendition of Bob Marley's 'One Love' from approximately 200 students who gathered in the school's auditorium to welcome him.
Sir Patrick Allen used the occasion to emphasize the importance of love; especially among youth who are most vulnerable in our society: "Even in education having love for your fellow student is equally important. Our passion to help one another will help us to surpass some of the challenges we have been experiencing in our schools and country", said The Governor-General. He also reminded the educators of the crucial role they play in grooming students for the future, pointing out that "education must benefit our children. It should allow them to conduct themselves in a manner that positively reflect their experiences in our schools and display to those looking on that they have earned a good education."
After a brief tour of the schools Information and Technology Department and a short but meaningful interactive session with some of the students who gathered to bid farewell to the Governor-General, it was time to visit the small-scale production facility situated in the heart of the Mango Valley Community.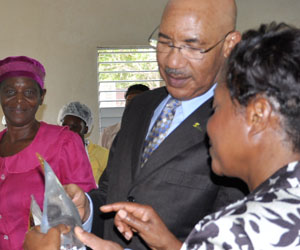 Mrs. Cinderella Anderson, co-founder of the Mango Valley Agro-Processing Facility said that she considered the facility a 'friendly society'. She explained to His Excellency that the facility is being operated by women of the community and expressed the hope that one day it would become the 'flour hub' of Jamaica.
Though operating in a small production area, Mrs. Anderson insisted that every measure is taken to ensure that products are prepared in a clean environment. She said that companies in Trinidad & Tobago have already signaled their interests in some of the products they have already manufactured. Different types of flour made from local produce such as Banana, Cassava, Breadfruit and even Plantain were properly packaged, labeled and ready for distribution. Sir Patrick Allen, commended the efforts of the group, expressing hope that they will "continue to work towards realizing their dreams of being able to provide by-products from our natural resources to Jamaica and the rest of the world as we continue to implore Jamaicans to eat and grow local products," said the Governor-General.
The tour culminated with visits to different areas in the Jeffrey Town Community. This include: the Jeffrey Town Maternal Clinic; the Jeffrey Town Primary and Junior High School; the Water Harvesting and Distribution project undertaken by community members as well as the Jeffery Town Community radio station (JET).