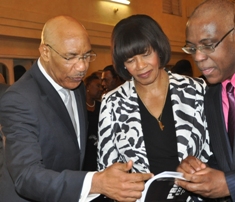 Having belted 1,300 interviews on his long-standing television programme "Profile", renowned journalist Ian Boyne is now sharing "Profile of Excellence: Strategies for Extraordinary Achievement from 25 Years of Interviewing Remarkable People" his book, co-authored by Glenford Smith.
The book was officially launched at King's House on Thursday April 10, 2013. A large number of high profile Jamaicans supported Mr. Boyne in celebrating another milestone achievement. There were ripples of laughter erupting in the ballroom during a vintage video presentation of Mr. Boyne sporting a full head of hair, conducting interviews with equally old school hair-styled guests.
According to Governor-General the Most Honourable Sir Patrick Allen, the book comes at a time when Jamaicans are in danger of sinking in the quicksand of negativity. He said that "its proven principles represent solid ground upon which all Jamaicans can stand, as we resolutely unite to overcome the economic and social challenges we face as a people".
The book contains extracts from interviews amassed over the years about individuals' success stories. It also shares with its readers, key strategies for extraordinary achievements in personal life.
Keynote Speaker at the launch was Dr. Leahcim Semaj. He said that notable achievers featured on the award winning show exemplified qualities such as resilience and determination to achieve noteworthy success. According to Dr. Semaj, the book displayed the powerful spirit of the Jamaican people.
"If the Governor-General is right, and I believe that he is 'There is nothing wrong with Jamaica that cannot be fixed by what is right with Jamaica', let's do it. We have no excuse for being in the predicament that we are in now, given the powerful spirit of the Jamaican people as displayed in this book."
In his response, Ian Boyne thanked those who were instrumental in the success of the TV show from its early beginnings, including former Minister of Youth and Culture the Hon. Babsy Grange who was also present at the launch; his wife Margaret Boyne, daughter Kelly-Ann Boyne and other colleagues in media.
Some of the guests who attended the launch included: Prime Minister the Most Honourable Portia Simpson Miller, former prime minister the Hon. Edward Seaga and Bruce Golding, Director of Public Prosecutions Paula Llewellyn, reggae artiste Tony Rebel and Cherine Anderson, the sole performer at the function.