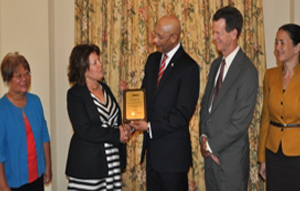 Governor-General Sir Patrick Allen has endorsed the Trees That Feed Foundation under the auspices of his I Believe Initiative (IBI).  The endorsement also involved the presentation of a plaque to Mrs. Mary McLaughlin, Foundation Chairperson, during a Courtesy Call at King's House on Tuesday (May 12).
In his remarks, Sir Patrick Allen said that Jamaica truly appreciates the Foundation's efforts to help ensure the country's food
security.  "It is important that we are able to feed our nation, especially with foods that have a high nutritional value.  A healthy nation is a happy nation," he stated.
In accepting the endorsement Mrs. McLaughlin said that this was the first time that the foundation was being recognized in this way in any of the countries in which it operates.  "Sometimes you do not know if what you are doing is right and so we are very thankful for this affirmation," she said.
The Trees That Feed Foundation is a non-governmental organization established in 2009.  Its mission is to distribute food-bearing trees to communities in Jamaica and other developing countries to provide sustainable food supplies, increase job opportunities and to also assist with reforestation.  Since its inception the Foundation has distributed over 60,000 mostly breadfruit trees in nine countries.  Other food-bearing trees including pomegranate, cashew, mango, guava and fig have also been planted.
The I Believe Initiative is a values-based programme built on the premise that there is nothing wrong with Jamaica that cannot be fixed by what is right with Jamaica.  This is the second project for 2015 to be endorsed by the IBI.  In April the Governor-General endorsed First Global Bank's "Perfect Pitch for a Sound Education" programme which uses music as a medium to help improve literacy and numeracy skills in grade three students.