Governor-General Sir Patrick Allen has inducted six young Jamaicans to serve as Jamaica Youth Ambassadors (JaYAP) for 2015-2017. Sujae Boswell and Tijani Christian will both serve as Jamaica Youth Ambassadors to the Commonwealth, while Jamar Howell and Rochelle Reid James have been appointed Youth Ambassadors to the United Nations General Assembly.  They are joined by Andre Marriott-Blake and Terisa Thompson who will serve as Jamaica Youth Ambassadors for the CARICOM region.
In his remarks, the Governor-General also tasked the
Youth Ambassadors with spreading the message of hope and self-belief to young people across Jamaica as they undertake their portfolio responsibilities.  He told the Ambassadors that they now have a greater opportunity to influence decisions which will enhance the welfare of young people and this should not be taken lightly.
"Jamaica like so many other countries is going through a challenging phase of development, but we shall overcome.  We have within us the capacity to make our situations better, but we must believe in ourselves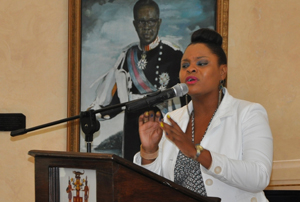 individually and as a nation," Sir Patrick Allen stated.  He said time and energy should not be wasted on negativism, but that everyone should be a part of the effort towards Jamaica's transformation.
The Jamaica Youth Ambassadors Programme is a project under the Ministry of Youth and Culture.  Minister of Youth and Culture the Hon. Lisa Hanna who also addressed the Induction Ceremony, stressed that it is the mission of her ministry to use programmes such as JaYAP to prepare young people to become producers in a global society without boundaries.