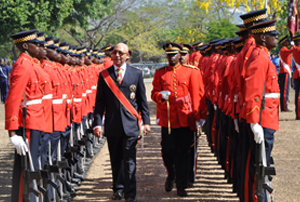 Leaders of the nation headed the list of dignitaries and other guests who attended this year's Independence Day Parade.  The event, which marked the start of the national celebration of Jamaica's 52nd anniversary of Independence, was held at King's House today, August 6, 2014.
During the ceremony, Independence Day Messages were delivered by The Governor-General, His Excellency the Most Honourable Sir Patrick Allen, Prime Minister the Most Honourable Portia Simpson Miller and Senator Kamina Johnson Smith representing the Leader of the Opposition Mr. Andrew Holness.
In his message, Governor-General Sir Patrick Allen acknolwdged that there were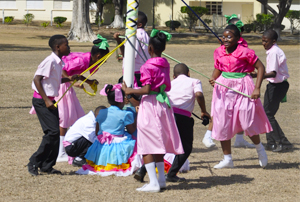 issues in every sector which were yet to be resolved.  However, he noted that he was "convinced of our core commitment to building a better Jamaica.  This fuels my belief that there is nothing wrong with Jamaica that cannot be fixed by what is right with Jamaica!"
He concluded by encouraging all Jamaicans to look beyond their present difficulties and work for the prize of making Jamaica, the place of choice in which to live, work, raise our families and do business. "We can achieve that goal", stated Sir Patrick Allen.
Among the activities at the celebration was the inspection by The Governor-General
of the Guard of Honour, which was furnished by The Second Battalion The Jamaica Regiment, commanded by Lieutenant Colonel D C Lobban.  The audience was also treated to performances organised by the JCDC: the Jamaica Youth Chorale, Mrs. Stacy Ann Brooks-Kristos, Maypole by the Liberty Learning Centre and the reading of the National Pledge by Ms. Anjell Bryan, Miss Jamaica Festival Queen 2014.