Wife of the Governor-General, Her Excellency the Most Hon Lady Allen, is encouraging Corporate Jamaica and ordinary citizens to contribute to the development and success of minors in the country's children's homes by donating time and resources.
"I believe that our young people, our children, are the future of our country and if we give them a jump start they are going to be able to carry the torch that we give to them," Lady Allen said.
She was speaking to JIS News on Tuesday (August 24) during her visit to the Glenhope Nursery, Maxfield Park Home in Kingston. She donated several pieces of furniture to the home, which were refurbished free of cost by upholstering company, I Am Enterprise.
Lady Allen explained that on a previous visit to the home, she and colleague donor, Margaret Boyne, noticed the poor condition of the sofas that the children were forced to sit on in the lounge area and decided to have them repaired for the comfort the youngsters.
She contacted director of I Am Enterprise, Oswald Smith, who was willing to repair the chairs free of cost, in addition to providing the materials.
"Mrs. Boyne and I are pleased this morning, along with Mr. Smith and his staff, that the children of Glenhope Nursery can have comfortable seats, not only ones that look good but that are appealing to them," she remarked.
Lady Allen said there were also plans in place to repair another sofa, as well as the roofing for the children's play area.
She is encouraging Jamaicans to lend a hand to the children of Glenhope and similar institutions across Jamaica, through donations.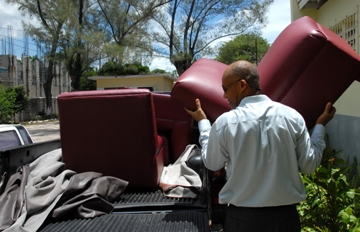 "If we can have more persons, then we can have a system in place that when they leave these places they can go into a home to work and get some mentoring, because some of them do not need to go back into the existing situation because that is what have caused them to be here in the first place, but it all takes money to do what we have to do," she implored.
Lady Allen and Mrs. Boyne are also mentors for two teenage girls at the Glenhope Home. Manager of the Glenhope Nursery, Carmen Mullings, said the children and the staff at Glenhope were extremely grateful for the donation from Lady Allen.
"It is a pleasure for us to have Lady Allen donating this gift to us. She has always been supporting the home, which we are always proud of, we really appreciate it, and I know my children here also really appreciate it," Mrs. Mullings said.
"I want to say a big thank you to her and the team for what they have been doing, and I hope for God's blessing on the whole team and for all of Jamaica that has been supporting us,"