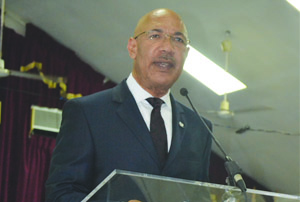 Governor-General, His Excellency the Most Honourable Sir Patrick Allen called on the nation to unite in the fight against crime and bring criminals to justice. The Governor-General was speaking at the Founder's Day Service of the Scout Association of Jamaica on Sunday, February 23, 2014.
"This monster of crime threatens to destroy completely any evidence of the caring, productive and peaceful Jamaica which we need it to be! Jamaicans, we must unite to try to prevent these crimes and bring criminals to justice", said The Governor-General.
He said that violence is too easily a response in our society and that too often, heinous crimes seem to be committed by persons who do not give a second thought to the lives they have destroyed. Sir Patrick Allen went on to state that the  children of Jamaica are the ones  who hurt the most, as  they become physical or psychological victims of misguided or criminal actions.
"Unless we counter them with remedial measures and provide effective mentorship and counselling, we run the risk of creating a vicious cycle", Indicated Sir Patrick Allen.
It is on that basis that His Excellency called on the Scout Association of Jamaica to inculcate scouting disciplines in youth across the country. He said that the Church also plays a vital role in the process and encouraged the churches to invest more in programmes tailored for youth.
"This mission for the recovery of our youth is urgent and merits the full support of all of us who are concerned for the future of this island", said His Excellency.
He charged the Scouts and their leaders, to honour their pledge by being faithful to their Duty to God, to self and to others