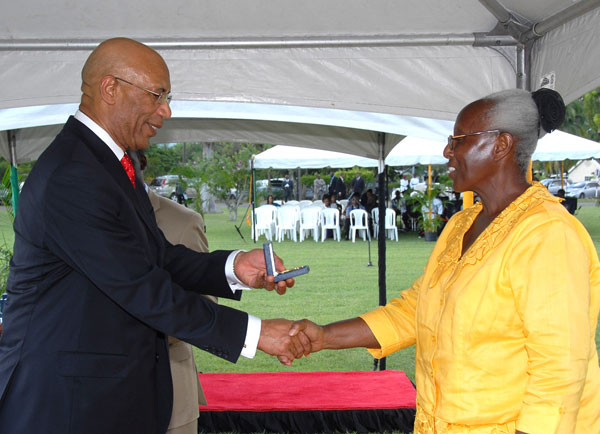 More than 670 civil servants, each of whom has dedicated 25 years of service and more in various areas of the public sector, were yesterday (November 19), presented with long service awards, during a ceremony held on the lawns of King's House, in Kingston.
This year's presentation included the recipients for 2008 and 2009, from more than 27 areas in the public service.
In a citation, the public servants were lauded for the vital contribution they have made to the growth and stability of the country. "You have been role models to thousands now in the Government service upon whose performance the future well-being of Jamaica will depend," the citation read.
"Through your efforts, the public can be assured of the highest quality service and assistance to which they are entitled. You represent a wide cross section of Jamaica and you have persevered in the field of Public Service, despite the demand elsewhere for the skills and experience you possess," the citation added.
Family Nurse Practitioner at the Gayle Health Centre in St. Mary, Miss Patsy Jennifer Tracey, who has served 39 years, was the recipient with the most years of service. She told JIS News following the ceremony, that she appreciated the award.
Miss Tracey, who has had a fulfilling career as a nurse, said she started out as a general trained nurse at the Kingston Public Hospital, during the 1960's. She then went on to do midwifery at the Jubilee Hospital, after which she worked at the Port Maria Hospital in St. Mary for eight years. She also did a short stint at the Bustamante Hospital for Children Hospital in Kingston.
She pointed out that being a nurse is much more than issuing medicine and administering injections, but involves other aspects, such as counselling. She said that the profession also requires one to be aware and well-rounded.
Public Health Inspector in the Ministry of Health and the Environment, Mr. Devon Michael Dixon, one of the longest serving awardees, having given 38 years of service, told JIS News that he would do it "all over again for another 38 years."
"This field, I thought about it, before going into it and I am satisfied with the work I have done so far, and I have no regrets," Mr. Dixon said.
He pointed out that most civil servants are persons who work very hard and that those awarded deserve the recognition.
Governor-General, His Excellency the Most Hon. Sir Patrick Allen; Prime Minister the Hon. Bruce Golding; Cabinet Secretary, Ambassador Douglas Saunders; Minister of State in the Ministry of Finance and the Public Service, Senator the Hon. Arthur Williams; Deputy Prime Minister and Minister of Foreign Affairs and Foreign Trade, Hon. Dr. Kenneth Baugh; Minister of Finance and the Public Service, Hon. Audley Shaw; and President of the Jamaica Civil Service Association, Mr. Wayne Jones, were among the persons who presented awards.