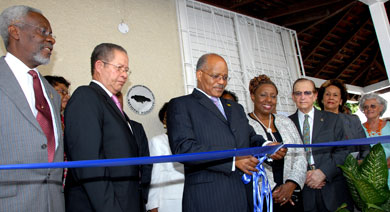 A museum to honour the life and work of National Hero, the Rt. Excellent Sir Alexander Bustamante, was officially opened by the Governor-General, His Excellency the Most Hon. Prof. Sir Kenneth Hall today (Feb. 3).
The Bustamante Museum is located at 24 Tucker Avenue in Kingston, where the country's first Prime Minister and labour leader resided.
Prime Minister, Bruce Golding, headed the list of officials attending the opening, which included former Prime Ministers Edward Seaga and P.J. Patterson; Anglican Lord Bishop of Jamaica and the Cayman Islands, the Rt. Rev. Dr. Alfred Reid; and Minister of Information, Culture, Youth and Sports, Olivia Grange.
Chairman of the Bustamante Museum Establishment Committee, Seragh Lakasingh, in his remarks, said that the opening of the museum marks a significant milestone in the heritage and history of the country.
According to Mr. Lakasingh, not enough recognition has been given to the work of Sir Alexander Bustamante and National Hero Norman Manley, whom he said were the "prime architects of modern Jamaica," and it was this need to acknowledge their contribution that impelled him to create the museum.
Already, there have been numerous calls from schools and universities expressing a desire to tour the museum, he said.
The facility houses an eclectic collection of Bustamante memorabilia and a permanent multimedia exhibition narrating his life. The exhibits cover several aspects of his career as a politician and labour leader, and founder of both the Jamaica Labour Party (JLP) and the Bustamante Industrial Trade Union (BITU).
These include Bustamante's famous letters to the press, consistently addressing the working conditions of poor Jamaicans and the role of the colonial leadership, and his early adult years spent abroad in countries such as Spain, Cuba and the United States.
Also contained are a number of photos, medals and honours, which were donated by Sir Alexander's widow, Lady Bustamante.
Mr. Lakasingh said that "we are still a little behind with the completion of the museum for full opening to the public but we hope to have it fully ready to the public sometime in May of this year."
Born in 1884, Bustamante served as Independent Jamaica's first Prime Minister until 1967, even though he had withdrawn from active participation in public life two years earlier. He was proclaimed National Hero in 1969. Bustamante died on August 6, 1977, on the 15th anniversary of Jamaica's Independence. He was 93 years old.