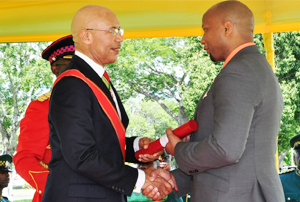 Governor-General, His Excellency Sir Patrick Allen, adorned two hundred and twenty- two nation builders with badges and medals of honour at the National Honours and Awards Ceremony held at King's House earlier today (October 19, 2015).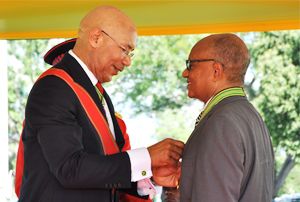 The nation's fourth highest honour, the Order of Jamaica (OJ) was bestowed upon eight individuals for their outstanding service to industry, research, education, religion, academia and community service.
A total of 87 individuals were bestowed the Order of Distinction (OD), 38 in the Commander Class (CD) while 49 were honoured in the Officer Rank.
Dr. Ricard Shane Bennet was the only civilian who copped the Badge of Honour for Gallantry for his act of saving his neighbour's life when he suffered a punctured lung.
Badges of Honour were bestowed upon on 33 individuals for Meritorious Service  and 40 individuals were adorned the Badge of Honour for Long and Faithful Service to the fields of  Youth Development, Agriculture, Education, Sports,  Public Service, Volunteerism and Community Service.
There were three members of the uniformed group who received Medals of Honour for Gallantry; they were Staff Sergeant Orion Orlando Archat of the Jamaica Defence Force and Warders Andre Richardo Duncan and Omar Anthony Robinson of the Department of Correctional Services.
Another fifty Badges of Honour were handed out to members of the Jamaica Defence Force, the Jamaica Constabulary Force, the Department of Correctional Services and the Jamaica Fire Brigade for their Meritorious Service.
The televised ceremony which lasted approximately three hours was followed by a photo opportunity with the Prime Minister and a reception by His Excellency Sir Patrick Allen.
 Please check out The Office of the Governor Jamaica on Facebook for photographic highlights of this luminous national event at the link below.
https://www.facebook.com/media/set/?set=a.725041077640537.1073741878.165094856968498&type=3