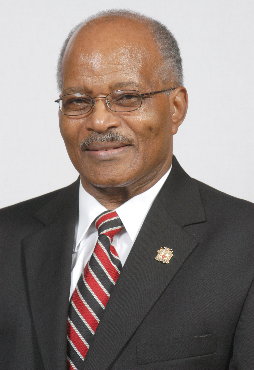 On Wednesday, February 15, Professor Kenneth O. Hall will join a select company of statesmen when he is sworn in as the fifth Governor-General of Jamaica.
Professor Hall, who has been the Principal of the University of the West Indies, Mona campus for the past nine years, will succeed His Excellency the Most Honourable Sir Howard Cooke, who has served as the country's leading Head of State for 14 years.
The installation ceremony is scheduled to get underway at 5:00 p.m. at King's House.
The ceremony will be overseen by Prime Minister P.J. Patterson, and see the present Governor-General's secretary, Kayla Sewell Mills, reading the Royal Commission, appointing Professor Hall as Governor-General of Jamaica.
Following this, Governor-General Cooke will invite Professor Hall to take, and subscribe the oath of allegiance and the oath of office, after which Sir Howard will present the Commission to the newly installed Governor-General.
Subsequently, the outgoing Governor-General's standard will be lowered and the incoming Governor-General's standard will be raised, accompanied by the fanfare of trumpets.
Professor Hall graduated from UWI Mona campus in 1966 with a Bachelor's degree in History. He obtained a post-graduate Diploma in International Relations from the Institute of Internal Relations, UWI, St. Augustine, and the Master of Arts and Doctor of Philosophy degrees in History from Queen's University in Ontario, Canada.
He has served as Professor of History at the State University of New York (SUNY) at Oswego, Adjunct Professor of Caribbean Studies at SUNY, Albany, and Professor of American Studies at SUNY, Old Westbury.
He has published books, articles and reviews on issues relating to History and Internal Relations. He has served as Deputy Secretary General of the Caribbean Community (CARICOM) Secretariat.
Professor Hall is married to Rheima Holding, Senior Research Fellow at the Allister McIntyre centre at the University of the West Indies, Mona. He will be Jamaica's fifth post independence Governor-General, and fifth Jamaican national to serve as such.
The inaugural Governor-General was Sir Kenneth Blackburne, who was appointed when the island was made independent in August 1962. He served until November of that year. Sir Clifford Campbell followed and served in the position until June 1973. The longest serving Governor-General, Sir Florizel Glasspole succeeded Sir Clifford, and served for some 18 years until Sir Howard Cooke was appointed in August, 1991.