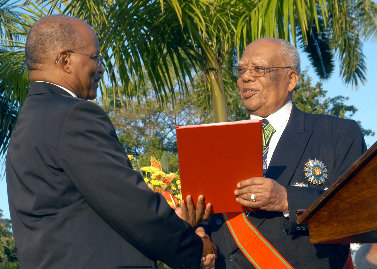 His Excellency The Most Hon. Kenneth Octavius Hall, was installed as Jamaica's fourth native Governor-General yesterday (Feb.15), and in his inaugural speech, declared his intent to work to build social capital and to project a self reliant, self-confident Jamaica.
He pointed out that as one of the symbols of national unity, the office of the Governor-General would be an active participant in forging national consensus.
"In this connection, I shall meet with a wide range of political, social, professional, religious, private sector, public sector, educational, cultural and of course youth organizations, to gain a better insight into their views, their hopes and aspirations as well as their plan for a better Jamaica," His Excellency stated shortly after being sworn in by former Governor-General, His Excellency The Most Hon. Sir Howard Cooke.
The investiture ceremony, held at King's House, was historic in scope, as it represented the first time that the incoming head of state was being sworn in by the outgoing Governor-General.
Moments after he was invested with the insignia of the Order of the Nation by Chief Justice Lensley Wolfe, an apparently humbled Governor-General Hall confessed to the mass audience in attendance, that growing up in the hills of Hanover, he never dreamed that he would one day be elected to the nation's highest office.
"Such a thing was completely outside the range of social condition but in the course of my generation, times have changed, making such opportunities possible for all Jamaicans," he said.
He further expressed his optimism for the future of Jamaica, noting that, "we have the will, the expertise and the imagination to find solutions that will enable us to continue on the path of national prosperity and social well-being".
He acknowledged that the nation faced a number of challenges, but said that in confronting these challenges, "we must continue to draw upon our accumulated experience and isolate those fundamental aspects of our culture that we wish to transmit to future generations."
The Governor-General also expressed his belief in the Jamaican youth, whom he said, could assist in "promoting a vision of prospects and progress for our country".
"I am already encouraged by the visibility of graduates from all tertiary institutions drawn from every walk of life, many of whom are in positions of trust and leadership. I shall endeavour to provide encouragement to them and work with them to achieve our common goals," he stated.
The Governor-General also thanked Prime Minister P. J. Patterson and the Cabinet for recommending him to succeed Sir Howard, as well as the Opposition for its pledge of support.
"I am encouraged by the positive responses to my appointment that I have received from a wide cross section of the people of Jamaica," he said, adding that with the support of his wife Her Excellency Rheima Hall, he would do "his utmost to uphold the dignity of the office and confidence you have placed in me".
Sir Howard Cooke has served as Governor-General since 1991.