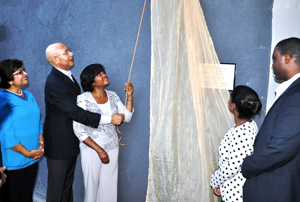 The newly opened Phoenix Central Business complex, home of the Jean Lowrie-Chin and Hubert Chin led ProComm and ProDev Group of Companies carries an inscribed memorabilia proudly stating that Their Excellencies; Governor-General Sir Patrick Allen and Lady Allen officially opened the complex.
At the recently held opening ceremony, Mrs. Lowrie-Chin stated that she subscribes to the philosophy of the Governor-General's I Believe Initiative and gave that as the rational for the inscription.
"The mantra, there is nothing wrong with Jamaica that cannot be fixed by what is right with Jamaica, is something I believe," she stated. "It is a concept that rests on youth empowerment, education and wholesome family values, which Their Excellencies epitomize and I am endeavouring to practice as I play my part in the development of community and nation," Mrs. Lowrie-Chin added.
In delivering greetings at the ceremony, His Excellency Sir Patrick Allen, stated that, "The establishment of Phoenix Central speaks volumes to the possibilities and the potential that are here in Jamaica, ready to be tapped and unlocked by the progressive business minds."
He stated that, Phoenix Central is a model of the end result of, "the convergence of family, faith commitment and hard work; ingredients that will help Jamaica achieve Vision 2030." 
The Governor-General also called on, "more of our citizens preferably all, to "believe" as the Chin's family, that Jamaica can be the place of choice, to live raise families and do business."