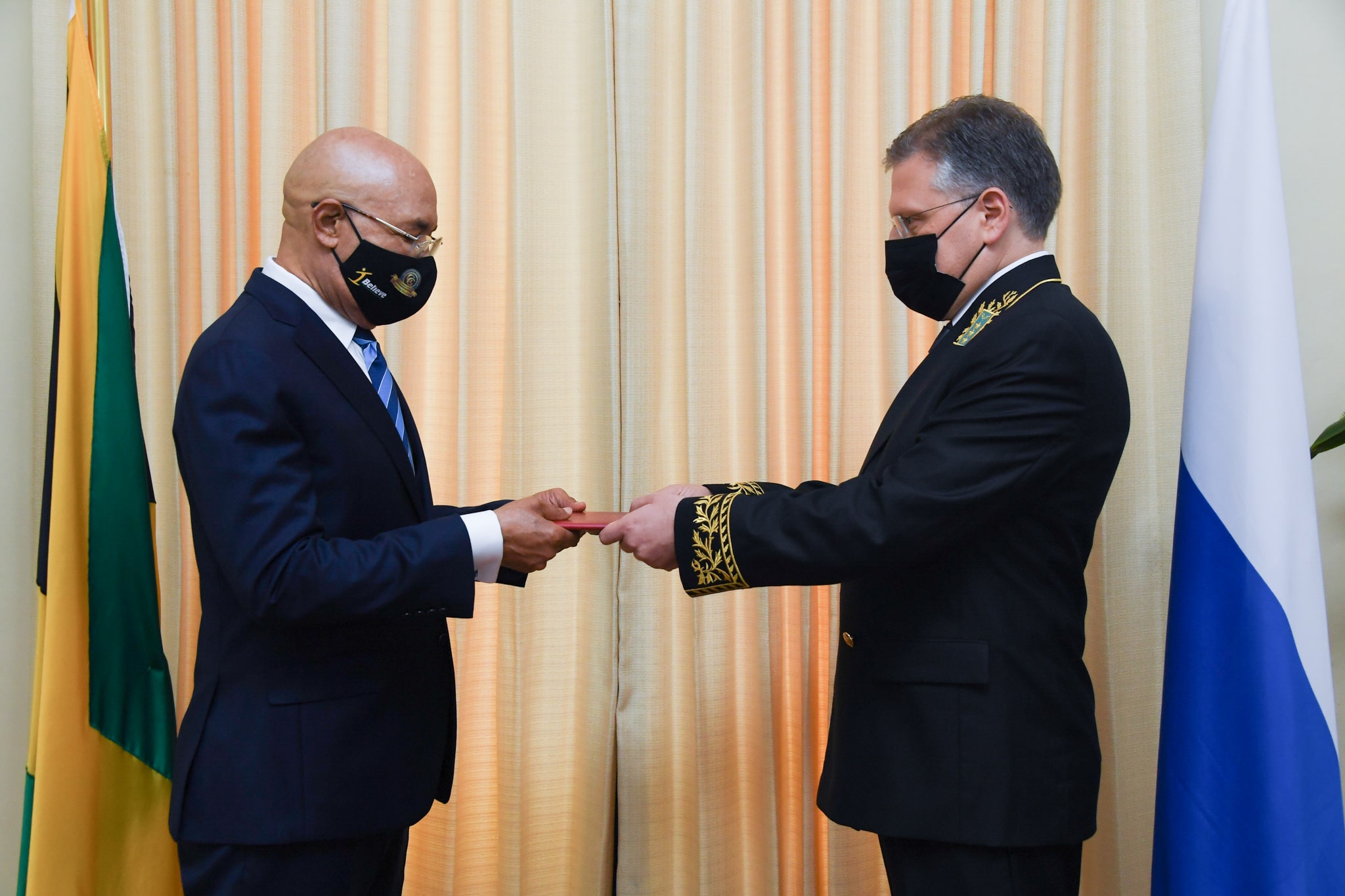 Governor-General Sir Patrick Allen received Letters of Credence from the Ambassador designate of the Russian Federation to Jamaica, Mr. Sergey Petrovich at King's House, Thursday (August 12, 2021) morning.
In a brief exchange following the presentation, The Governor-General congratulated Ambassador Petrovich on his appointment and warmly welcomed him to Jamaica. Ambassador Petrovich expressed his country's desire to enhance cooperation with Jamaica in the areas of culture, education, sports and tourism. "Jamaica is number one for Russian tourists in the Caribbean. We want, as much as possible, to increase the number of Russian tourists to Jamaica," the Ambassador said.
He added that there is much potential for development in alumina and education. "We provide scholarships for Jamaican students to study in Russia. There are 28 scholarships this year."
Ambassador Petrovich used the occasion to praise Jamaica for producing Bob Marley, Reggae, Blue Mountain Coffee and Jamaican rum, topping his commendations with congratulations to Jamaica for the medal haul in the recent Olympic Games in Tokyo.
In response, The Governor-General explained that Jamaica's athletic prowess is honed through the local annual Boys' and Girls' Athletic Championships. "Some people wonder about our dominance in sports…during the months of March-April, we have a Boys and Girls Track and Field championship… from that event we nurture our talents for the world stage… Maybe you can invite some of them (the young athletes) to study in Russia." Sir Patrick told the Russian Ambassador.
Sir Patrick conveyed his appreciation to the President and people of Russia for having developed the first COVID-19 vaccine and for their provision of vaccine assistance to many countries.
He wished the Ambassador a successful tenure in Jamaica, noting that Jamaicans are a friendly people and anticipated that the Ambassador will find true our local saying, "Come to Jamaica and feel alright".
Jamaica and Russia established diplomatic relations in 1975 and since then both countries have signed several bilateral agreements aimed at strengthening cooperation.