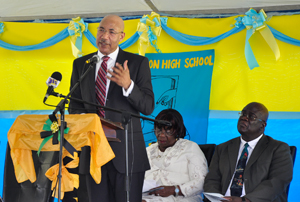 "Carpe Diem- Seize the moment!" This was the charge given to the students of the Little London High School by Governor-General His Excellency The Most Honourable Sir Patrick Allen on Thursday May 15, 2014.  Sir Patrick Allen was addressing the students as part of his official tour to the parish of Westmoreland.
"Some of you might be longing to quit school and be an adult.  Adult life is not easy!
Many lose out because they failed to prepare themselves, or because they chose the short-cut instead of the long road and you know what that does! You can only be successful when you seize every chance you get to improve your education", said
the Governor-General.
He noted that the school had the capacity to provide quality education, which includes a variety of important technical and vocational subjects, and urged the students to take advantage of the opportunities that are available to them.
The Governor-General urged the youngsters to believe in their potential to excel so that they can take advantage of the opportunities that can impact their lives in a positive way. "You can be the shining star in your family and community. You can make a difference in Jamaica and the world", encouraged the Governor-General.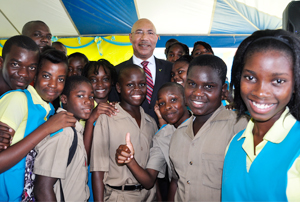 To this end, Sir Patrick called on the students to "be confident" and not to be dismayed by their failures.  Instead, he asked them to use their curiosity, energy and inventiveness for greater good.
"Believe with me that there is nothing wrong with Jamaica that cannot be fixed by what is right with Jamaica", stated Sir Patrick Allen. He reminded them that they are part of what is right about Jamaica.
Sir Patrick implored the students, staff, and parents and to work together as a team, so that they can proudly celebrate the many "rising stars" Little London High School has given to Jamaica!