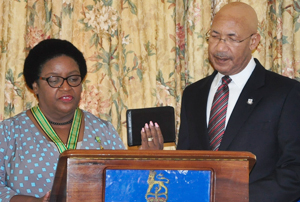 The installation ceremony for the newly appointed Custos of St. Andrew, Mrs. Donna Parchment Brown will take place on Thursday March 19 at the Karl Hendrickson Auditorium, Jamaica College starting at 3:00 p.m.  As a prelude to this event all Justices of the Peace for the parish are required to sign a new Magistrate Roll by Wednesday March 18.
The Magistrate Roll is available for signing at the Police Officers Club, Hope Road, Kingston between 10:00 a.m. and 4:00 p.m., Monday to Friday.
Mrs. Donna Parchment Brown was appointed Custos Rotulorum for the parish of St. Andrew by His Excellency The Governor-General.  She is a distinguished Attorney-at-Law, mediator and trainer and is a founding member of the Dispute Resolution Foundation.
-30-
For further information contact:
Public Relations Unit
Office of His Excellency
The Governor General and Staff
Tel: 927-6827