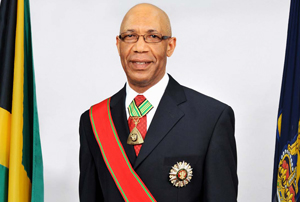 KINGSTON (JIS)— The State Opening of Parliament will take place on April 14, beginning at 11:00 a.m.
Governor-General, His Excellency the Most Hon. Sir Patrick Allen will deliver the Throne Speech, in which he will outline the government's programmes and policies for the 2011/12 Fiscal Year, which began on April 1.
Later in the afternoon, Minister of Finance and the Public Service, Hon. Audley Shaw, will table the 2011/12 Estimates of Expenditure in the House of Representatives.
The estimates will provide details on how the programmes will be funded and what the various Ministries and agencies will receive for Recurrent (house-keeping) and Capital (development) expenses.
The Standing Finance Committee of the House will meet to consider the estimates from April 19-21.
On Thursday, April 28, the Finance Minister will open the 2011/12 Budget Debate, which will last until May 11. During the debate, selected members of the Government and the Opposition will make presentations.
Opposition Spokesman on Finance, Dr. Omar Davies, is expected to make his presentation on Tuesday, May 3, while presentations will be made by a Government Minister and an Opposition Spokesman on Wednesday,  May 4.
On Thursday,  May 5,  Opposition Leader, the Most Hon. Portia Simpson Miller is scheduled to make her contribution to the debate.
Prime Minister, Hon. Bruce Golding is slated to make his presentation on Tuesday,  May 10.  The Finance Minister will close the debate on Wednesday,  May 11.
After  the Budget Debate is completed, other members of the House of Representatives will make their presentations in the Sectoral Debate, which follows.