Jamaicans were encouraged by Governor-General Sir Patrick Allen to take seriously, the fundamental human right of religious liberty which is protected by the nation's constitution. He was speaking at the Festival of Religious Freedom convened by the Seventh-day Adventist Church and other religious entities on January 24 at the National Arena.
The Governor-General noted that this celebrated right is being denied from millions of people across the world who often times suffer because of their beliefs. Jamaica however, is among the minority countries where this liberty is enjoyed .
"We come today, representing all faiths which are practised in this country, to give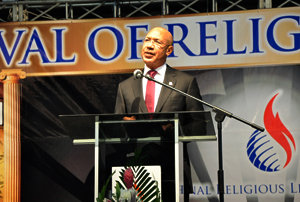 thanks for that freedom which is so essential to peace and stability. Non-believers can also celebrate the exercise of their right to be unattached to any religion," Sir Patrick Allen said "We have come to declare that as a people we shall protect our freedom of religion and belief and shall demonstrate respect for religious liberty for all, " he added.
Jamaica subcribes to the 1981 United Nation's Declaration for the Elimination of all forms of Intolerance and Discrimination Based on Religious Belief. Against this background, Sir Patrick reminded the gathering that "we have a duty to ensure that this freedom is not undermined whether by the enactment or the implementation of laws and regulations. This is a fundamental 'human right' which
successive governments of Jamaica have respected, supported and encouraged with the expectation that employers will respect and facilitate the full enjoyment of that right."
The Governor-General welcomed the launch of Jamaica's Chapter of the International Freedom of Religious Association and expressed hope for the success of the local chapter.