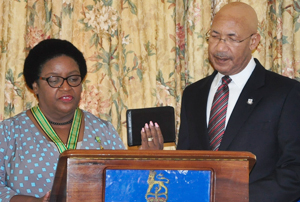 The Governor-General has sworn in Mrs. Donna Parchment Brown to serve as Custos Rotulorum for the parish of St. Andrew effective February 2, 2015.  She will replace the Hon. Marigold Harding who is retiring after serving in the position since 2010. The swearing-in ceremony took place today at King's House.
According to Sir Patrick, this appointment will begin a new phase in the life of Mrs. Parchment Brown who is an alternative dispute resolution practitioner in the Commonwealth Caribbean and a founding member of the Dispute Resolution Foundation in Jamaica. He reminded her that in carrying out her duties, she would have to put her people skills to good use as she would be required to interact with people across all social levels regardless of belief or persuasion.
The Governor-General also reminded her that as his representative in St. Andrew, he would rely on her support  for The Governor-General's Programme for Excellence, while collaborating in building a better Jamaica.
In her response, Mrs. Parchment-Brown commended the former Custos who she described as an extraordinary and energised leader who motivated and sought to modernise supporting infrastructure for Justices of the Peace.
She looked forward to working with all stakeholders as she committed to play her part in advancing the welfare of her parish. "I intended to hear the voices of the Justices of the Peace and to carry out the duties as set out in the Custos Rotulorum
Act, Acts relating to the JPs and all other services, using tools of affirmation and cooperation," said Mrs. Parchment-Brown.
Sir Patrick Allen commended outgoing Custos the Hon. Marigold Harding for her  service to the people of St. Andrew.  "She dedicated herself to serving the people of St. Andrew for more than four years and can attest to the demands which the role of Custos makes on the incumbent as well as on his or her family." He went on to state that Custos Harding has been an asset, especially through her consistent actions to train and motivate the Justices of the Peace for St. Andrew.