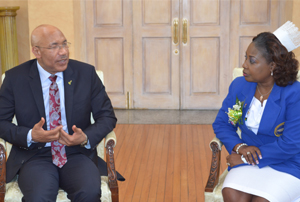 His Excellency The Most Honourable Sir Patrick Allen expressed his appreciation to members of the nursing profession who opted to work in Jamaica instead of migrating "to greener pastures".  He was addressing a group of nurses, headed by Nurses Association of Jamaica President Antonette Patterson-Bartley, who paid a Courtesy Call on him on July 15, 2014.  Among the group were the finalists in the NAJ/LASCO Nurse of the Year and the Student Nurse of the Year competitions.
Sir Patrick noted that although these were challenging times in Jamaica, there was much to give thanks for including good land and the sunshine. In addition, the nation was grateful to those nurses for their commitment to Jamaica and for remembering that Jamaica needed their service.   "Thank you for standing your ground, believing in your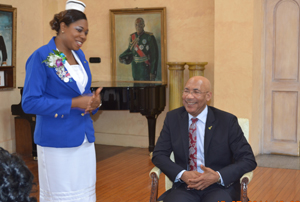 country and choosing to give of yourself to the land of your birth," he stated.
The Governor-General urged the nurses to remember that there was more to life than the material things which money could buy, namely those important values and attitudes which defined their character.   He encouraged them to always exude confidence, graciousness and kindness as they reach out to those in their care, and to make a difference in their lives.
Sir Patrick extended best wishes to the finalists in the competitions and reminded them that each would come away a better person because of that experience.