January 6, 2014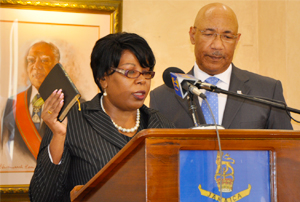 Newly appointed Judges to serve in Jamaica's Justice System during the Hilary Term were today called upon by Governor-General His Excellency the Most Honourable Sir Patrick Allen to reassure Jamaicans that justice is being carried out in a fair manner.
The Governor-General who was speaking at the swearing-in ceremony held at King's House said that: "In today's Jamaica there is much hue and cry about the level of crime and violence in our society, as well as the apparent slow turning wheels of the justice system. You therefore, will play an important role in allaying the fears of Jamaicans of all walks of life, giving the reassurance that justice is being done and that the matters which come before you are being dealt with in a fair manner."
The five Judges who were sworn in are the Hon. Mrs. Justice Ingrid Mangatal, appointed to serve as a Judge of Appeal from January 13 – April 11, 2014, the Hon. Mrs. Justice Carol Lawrence Beswick has been appointed to serve as Judge of Appeal from January 15 -April 11 2014, Mrs. Sharon Ayton George will serve as Puisne Judge effective January 7th , Mrs. Audre Lindo will also serve as Puisne Judge from January 7 -April 11, 2014 and Mrs. Rosemarie Harris will act as Master-in-Chambers from January 7- April 11, 2014.
Each Judge took their oath of allegiance in the presence of the Governor-General who presided over the ceremony.
Present at the swearing-in ceremony was President of the Court of Appeal the Hon. Mr. Justice Seymour Panton, who congratulated the newly appointed Judges on their achievement. Justice Panton reminded the gathering that the Judicial Services Commission has a firm policy when deciding the term of appointment given to those elected to serve in temporary posts. He expressed confidence in the Judges who he said have continued to give their best and will apply themselves to the task at hand.
Mrs. Justice Carol Lawrence Beswick in her response on behalf of the Judges said that they are grateful for the opportunity offered to them in dispensing justice in the country. She acknowledged that the public demands that justice is delivered in a timely fashion and pledged to do just that. "We must produce work of the highest caliber as is demanded from us from Jamaicans," Justice Beswick said.