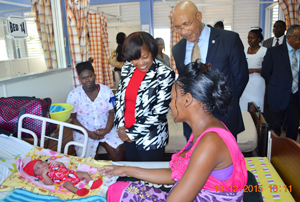 Their Excellencies, Governor-General the Most Honourable Sir Patrick Allen and Lady Allen made the second stop in their Annual Hospital Christmas visits at the Port Maria Hospital on Thursday December 10, where they commended the staff for their diligence to duty.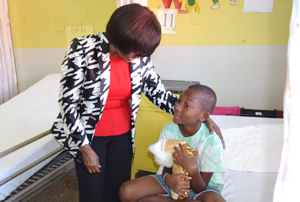 "It is not a large operation that you have here but as we walk through I discover you are performing some very critical care and for that I want to commend you for the tremendous work that you do," the Governor-General stated. 
"I don't know we have words sufficient to say thanks to each one of you and that is why sometimes you find that we come out to stand with you, to affirm you, to keep up the good work you are doing," his Excellency continued.
In his 'heart-to-heart' address speaking to the issue of care and team work, Sir Patrick Allen thanked the team of doctors, nurses and volunteers for going above and beyond the call of duty despite the various challenges. 
During the visit, their first order of business was a stop at the maternity ward where all the new and expectant mothers were furnished with care packages, words of comfort and encouragement and tips on proper parenting skills by Lady Allen. 
 This was followed by a stop at the pediatric ward where the children and their guardians were delighted to meet and interact with Their Excellencies who also gave toys and care packages. 
The tour culminated with the gathering of the executive members of the North East Regional Health Authority (NERHA), medical, administrative and other staff for the presentation of a memorabilia and other gifts to assist with the hospital. 
Their Excellencies are slated to visit and tour the Sir John Golding Rehabilitation Centre and the National Chest Hospital on Thursday December 17 for the final in their official Hospital Visits and Tours for 2015.