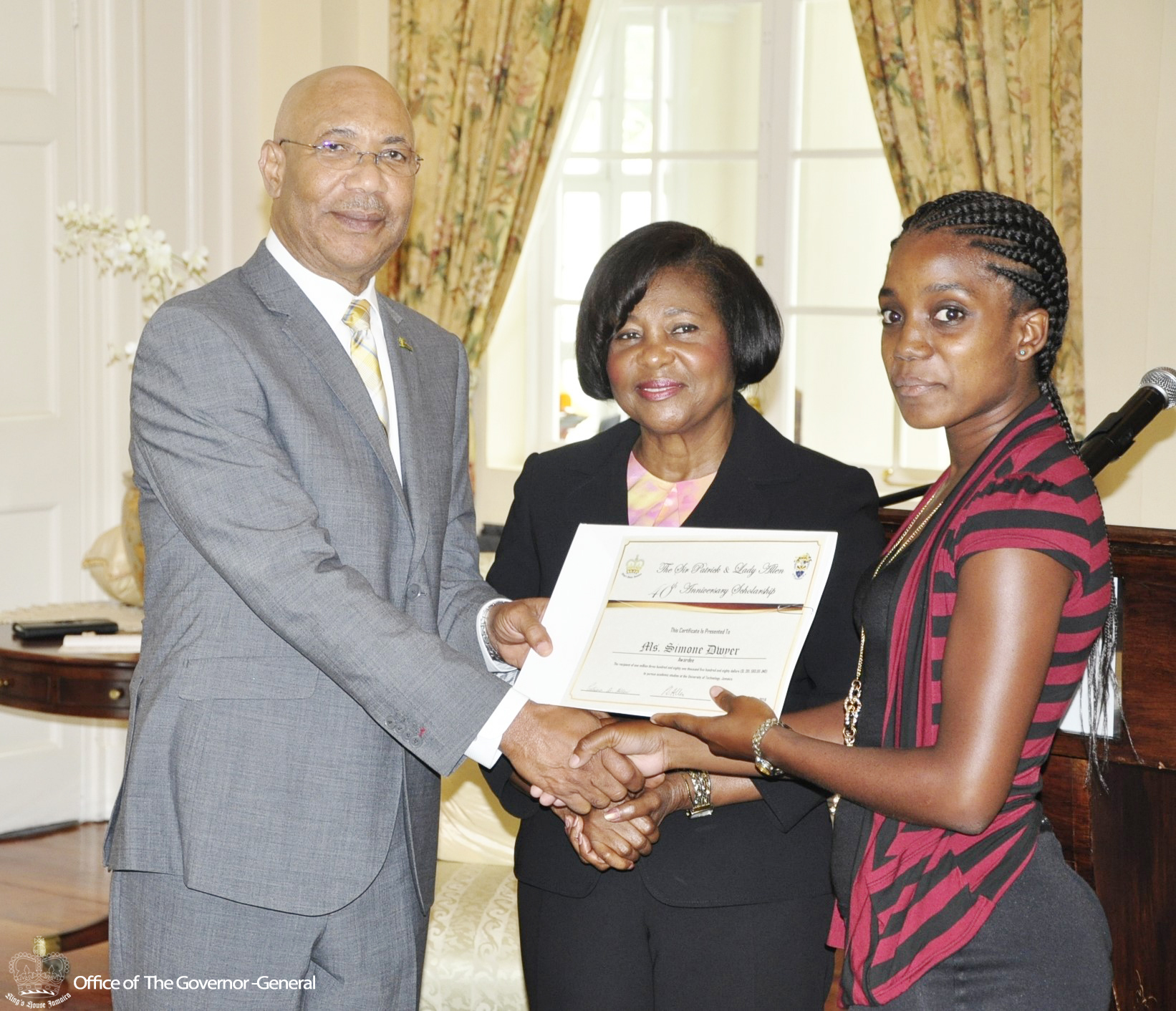 Governor-General Sir Patrick Allen and Lady Allen have awarded Simone Dwyer, a second year student at the University of Technology (U-TECH), Jamaica, the Sir Patrick and Lady Allen 40th Anniversary Scholarship valued at over $1.38 million. This will allow Simone to complete her Bachelor's Degree in Medical Technology. Two other U-TECH students, Raymond Stewart and Lacy-Ann Green, were named first and second runners-up and received bursaries of $459,000 and $175,000 respectively.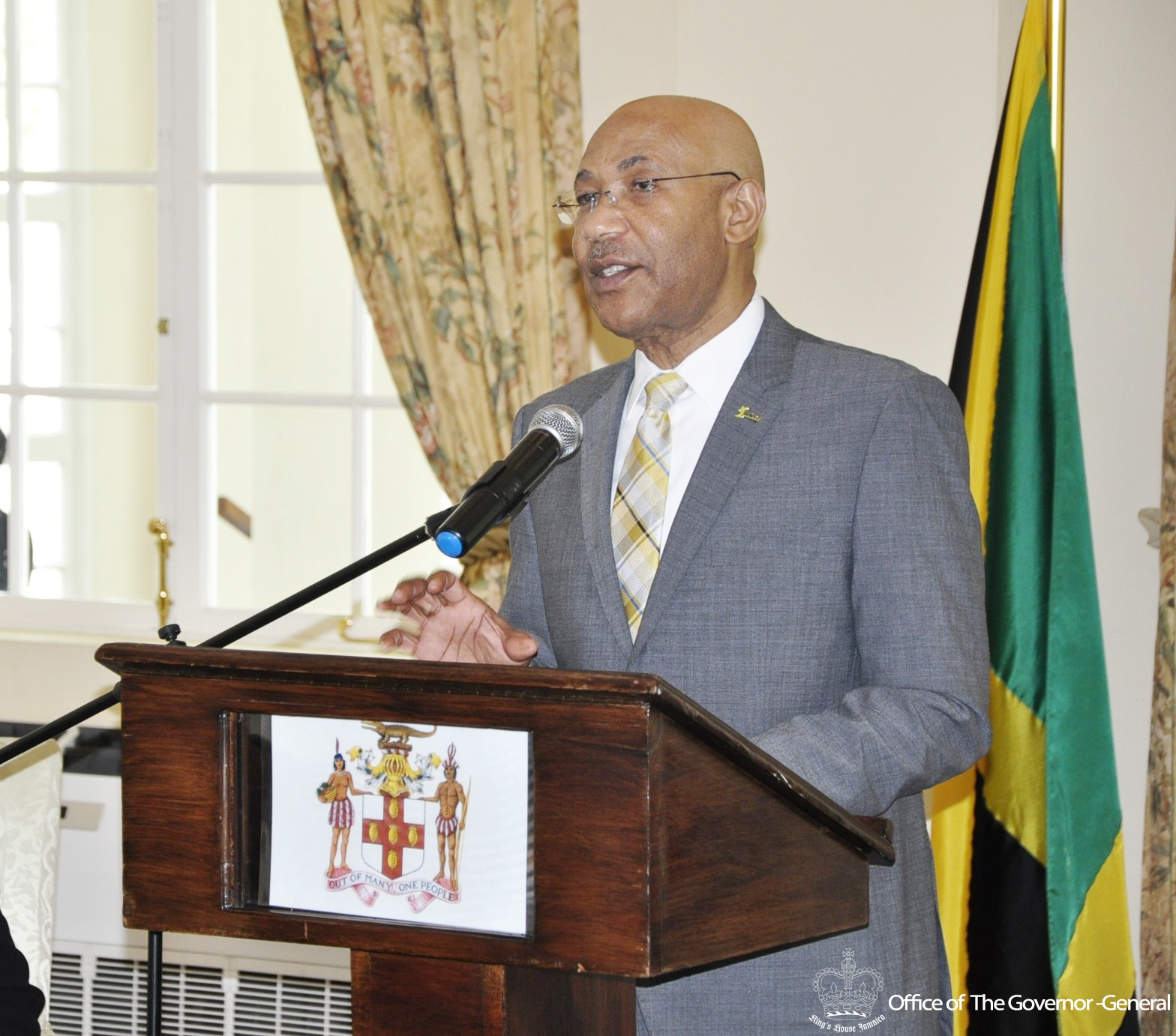 The scholarship fund was launched in July 2015 at a musical recital held in celebration of Their Excellencies' 40th Wedding Anniversary, and to which guests, family, friends and well-wishers were asked to contribute instead of offering gifts.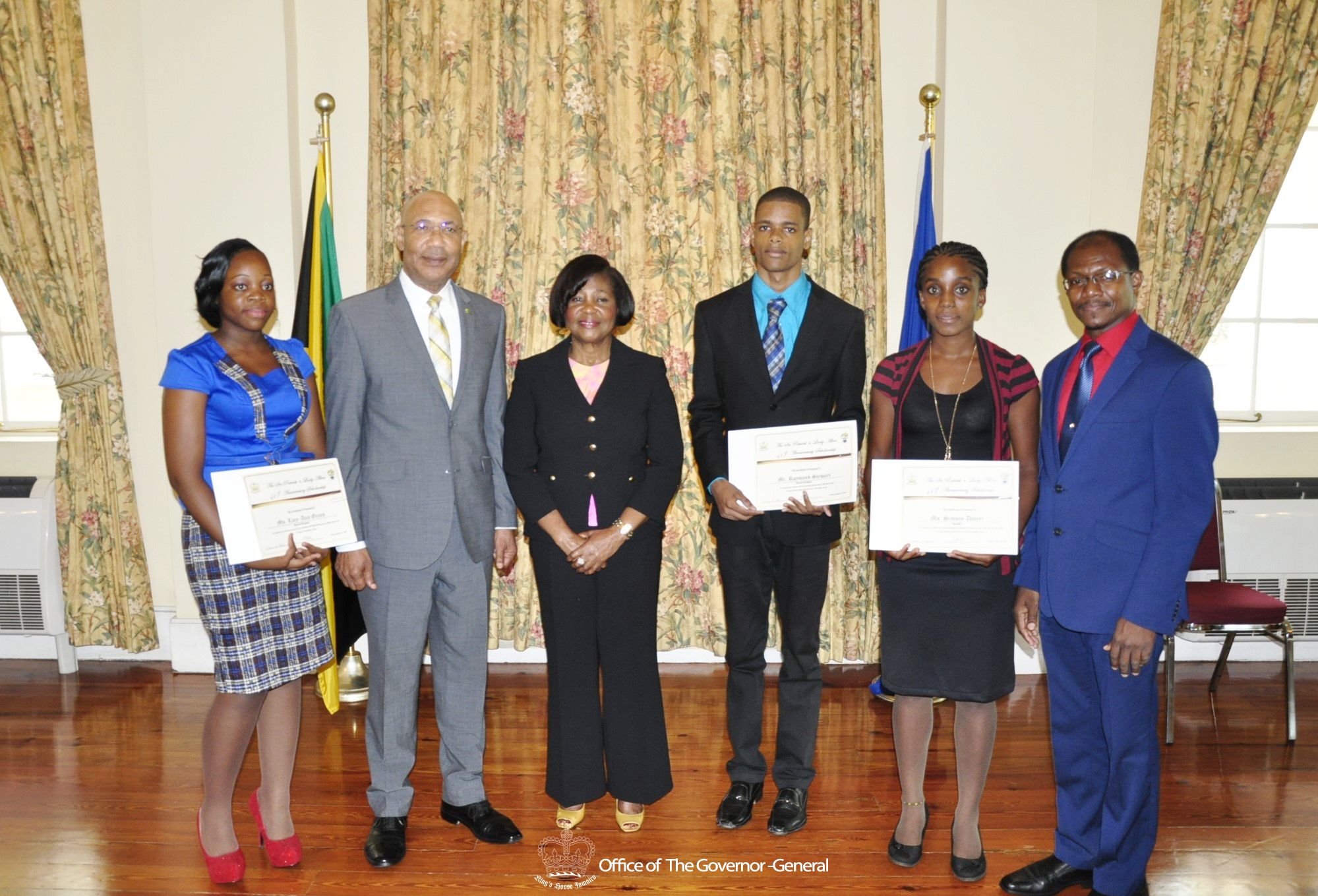 Speaking at the Scholarship Award Ceremony held at King's House, the Governor-General said the 40th Anniversary Scholarship was the realization of a vision to serve and uplift others. Although he and Lady Allen would have preferred to celebrate their fortieth wedding anniversary away from public view, he said they both welcomed the idea to give back to society through the scholarship fund.
"We are happy to serve and uplift others as we do through the I Believe Initiative to empower young people," Sir Patrick Allen stated.
He noted that although only one scholarship was envisioned, the economic and social reality of Jamaican students wanting to pursue tertiary education, was a compelling reason for the award of bursaries to the first and second runners-up. He expressed gratitude to Custos of Kingston, the Hon. Steadman Fuller, who provided additional funding for the bursaries.
The Governor-General said emphasis was placed on study in the areas of Science, Technology, Engineering and Mathematics, as STEM presently holds the best option for Jamaica to achieve its vision for national development. In this vein, he encouraged the recipients to "apply your training in your respective areas of study to advance the development of our nation in concrete ways that will serve us well beyond 2030."
This sentiment was shared by Professor Colin Gyles, Acting President of U-TECH, Jamaica, who underscored the importance of STEM to development, particularly in developing countries. "Our citizens must prepare for the relevant jobs of the future," Professor Gyles stated.
In her response on behalf of fellow recipients, Simone Dwyer expressed gratitude for the vote of confidence by Their Excellencies and the selection panel which was headed by Peter Goldson, Secretary of the Jamaica and Commonwealth Caribbean Rhodes Scholarship Committees. "Thanks to you, my colleagues and I are one step closer to completing our studies. Our educational pursuit would have been difficult without your assistance," she stated.
Professor Colin Gyles said that U-TECH, Jamaica would ensure that the recipients do not disappoint in terms of the training they will receive at the institution.