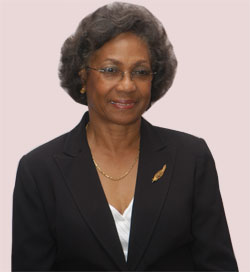 Spouse of the Governor-General, Her Excellency, Rheima Hall, said today that the celebration of Women's Day was most fitting for Portia Simpson Miller, first female Prime Minister designate, and Professor Elsa Leo-Rhynie, first female Principal of the University of the West Indies.
"We are celebrating the breaking of the glass ceiling by two outstanding Jamaican women being elected and appointed to two of the most senior positions in Jamaica's political and educational institutions," she pointed out.
Mrs. Hall, who was addressing the official ceremony to mark International Women's Day, which was held at the Jamaica Pegasus Hotel in Kingston, said it was obvious that Jamaican women have made great strides through their co-ordinated efforts, "to ensure that we all grasp the opportunities to participate in the political and economic processes in our nation".
International Women's Day was held under the theme: 'A Gendered Approach to Natural Hazard Risk
Management', with Mrs. Hall being this year's patron.
Mrs. Hall applauded the organizers of the International Women's Day celebrations in Jamaica, "who have seen it fit each year to remind women of their rights and responsibilities".
"We have an awesome responsibility as well as ever increasing opportunities to ensure that, having come thus far, we do not drop the ball," she emphasized.
She also highlighted the women who have fought against all odds and have achieved their goals. "I cite especially, female heads of households who receive little or no physical or financial assistance from those who fathered their children, and yet are able to nurture and instill desirable values in their children," she said.