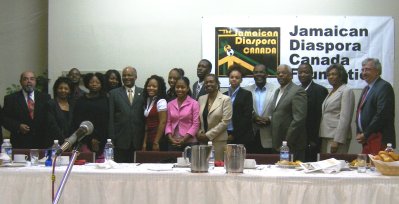 Governor-General, His Excellency the Most Hon. Professor Kenneth Hall has called on young persons overseas to take advantage of opportunities that exist in Jamaica, in order to contribute to the development of the country.
Addressing a group of young persons recently at the first Future Leadership Conference organized by the Jamaican Diaspora-Canada Foundation (JDCF), at the Revivaltime Tabernacle in Toronto, Canada, Professor Hall told them that those opportunities would give them the chance to have a stake in what happened in Jamaica and helped to mold the future of the country.
He said that although they were living overseas, their contributions were "valued and valid." He also implored them to find ways of meaningful contribution to help Jamaica realize the vision of 'Jamaica 2030', which is a plan for Jamaica to achieve 'developed country' status by that time.
The Governor-General told the conference attendees that they should strive to become leaders, because Jamaica needed those persons, adding that leaders and managers were not the same, as leaders had vision.
"Managers administrate, while leaders innovate; managers rely on control, while leaders inspire trust. Managers accept the status quo, while leaders challenge the status quo. Managers imitate, while leaders originate; and managers have their eyes on the bottom line, while leaders have their eyes on the horizon," he explained.
Also addressing the conference were Ontario's Minister of Children and Youth Services, Jamaican-born MaryAnne Chambers; Parliamentary Secretary in the Department of Foreign Affairs and International Trade (DFAIT), Deepak Obhrai; Canada's High Commissioner to Jamaica, Denis Kingsley; Former Speaker of the Ontario Legislature, Alvin Curling; Chair of the Festival Management Committee (Caribana), Joe Halstead; and the National Co-ordinator for the Governor-General's Achievement Scheme, Hugh Morris.
Minister Chambers gave the young people some advice, entreating them to be passionate about what they did. He also told them that there was no service greater than serving "your brother and sister."
The conference was one of several events organized by the JDCF to commemorate Jamaican Diaspora Day, today (June 16).
On June 23 a forum/discussion will be held on how the diaspora can assist inner-city communities in Jamaica.