Governor-General Sir Patrick Allen is urging the Church to lead the charge to renew and awaken the traditional values on which the nation was established. He said that values such as respect, discipline, integrity, fairness, perseverance and a determination to excel which his I Believe Initiative also promotes, are essential to building the nation.
The Governor-General was speaking at the 38th Annual Camp Meeting of the Deliverance Evangelistic Association on Wednesday April 9 under the theme: "Divine Intervention."
Sir Patrick Allen said that he was grieved by the gruesome and violent acts committed by heartless criminals against the people of Jamaica, including women and children. "Some of you in this congregation may have suffered the loss of loved ones, or have been victims of crime and violence. Lady Allen and I offer you our deepest sympathies and want you to know that our fervent prayers for Jamaica embrace each and every one of you", said the Governor-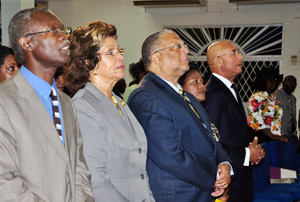 General.
He indicated that this shared concern between himself, the Prime Minister's and the Leader of the Opposition, prompted the leaders to join in issuing an appeal to Jamaicans to use the Lenten period for reflection on how to reverse the moral decay and crime which have gripped Jamaica.
The Governor-General said that as a people who are always dependent upon God we should not be afraid of divine intervention. "It is so appropriate that we, the people of Jamaica, do not become afraid of Divine Intervention. Today, as a people, we are always dependent upon God. Now more than at any other time in our history, we in Jamaica are in need of a divine intervention", said the Governor-General.
He said that "If we believe in ourselves and in our God-given potential to chart a positive course for Jamaica's
accelerated development, we can achieve it!"