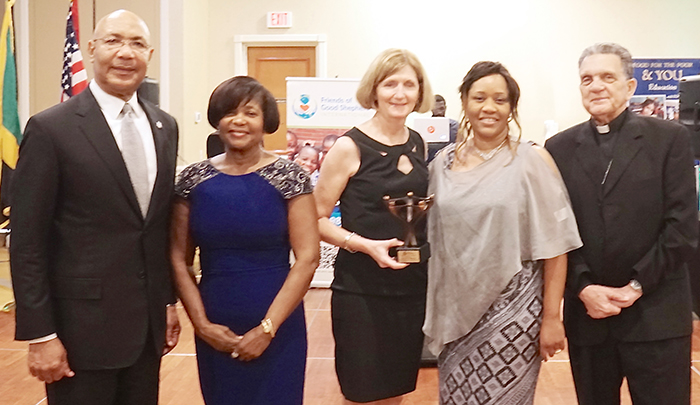 Governor-General, His Excellency the Most Hon. Sir Patrick Allen, encourages Jamaicans in South Florida, who can afford, to explore ways in which they can make a difference in the lives of their fellow-men, especially in giving back to the needy.
In delivering the keynote address at the 20th annual fund-raising dinner of the Friends of Good Shepherd International Incorporated (FOGS), at the DoubleTree by Hilton Hotel in Sunrise, on Saturday night (April 2, 2016), where The Governor-General and Lady Allen were the patrons of honour, His Excellency referred to scriptures to support his call for helping others.
"As often as you did it to one of the least of my brothers and sisters, you did it to me," noted the Governor- General as he referenced Matthew 25:40.
Sir Patrick Allen further lauded the Christian charity for its committed and dedicated service to Jamaica, and other local charities in the United States and Caribbean region, and thanked Archbishop of Kingston, and Founder of the Good Shepherd Foundation of Montego Bay, the Most. Rev. Charles Dufour, for his vision and leadership.
"The example displayed by the Archbishop and the Foundation, supports my belief that there is nothing wrong with Jamaica, that cannot be fixed by what is right with Jamaica," Sir Patrick Allen commented to thunderous applauds.
The other major highlights of the gala event were the presentations of the Friends of Good Shepherd International 2016 Humanitarian and Corporate Awards presented to Dr. Barrie Strafford, for his pioneering work at the Brenda Strafford Clinic in Montego Bay and Vitas Healthcare, the leading provider of Hospice Care in the United States, respectively.
Meanwhile, Mrs. Marie Dufour-Buteau, President of the FOGS, in her address, expressed her gratitude to Their Excellencies for attending and reflected on the accomplishments of the group over the years.
Friends of Good Shepherd International supports the Good Shepherd Foundation of Montego Bay, Mustard Seeds Community of Jamaica, The Archbishop's Charity of Kingston, and other charities throughout the Caribbean.
Other dignitaries attending the function included Consul General to Miami – Mr. Franz Hall, Honorary Consul General of Turkey in Jamaica – Dr. the Honorable Arnold Foote and Mrs. Foote, and heads of several large corporations in the South Florida.