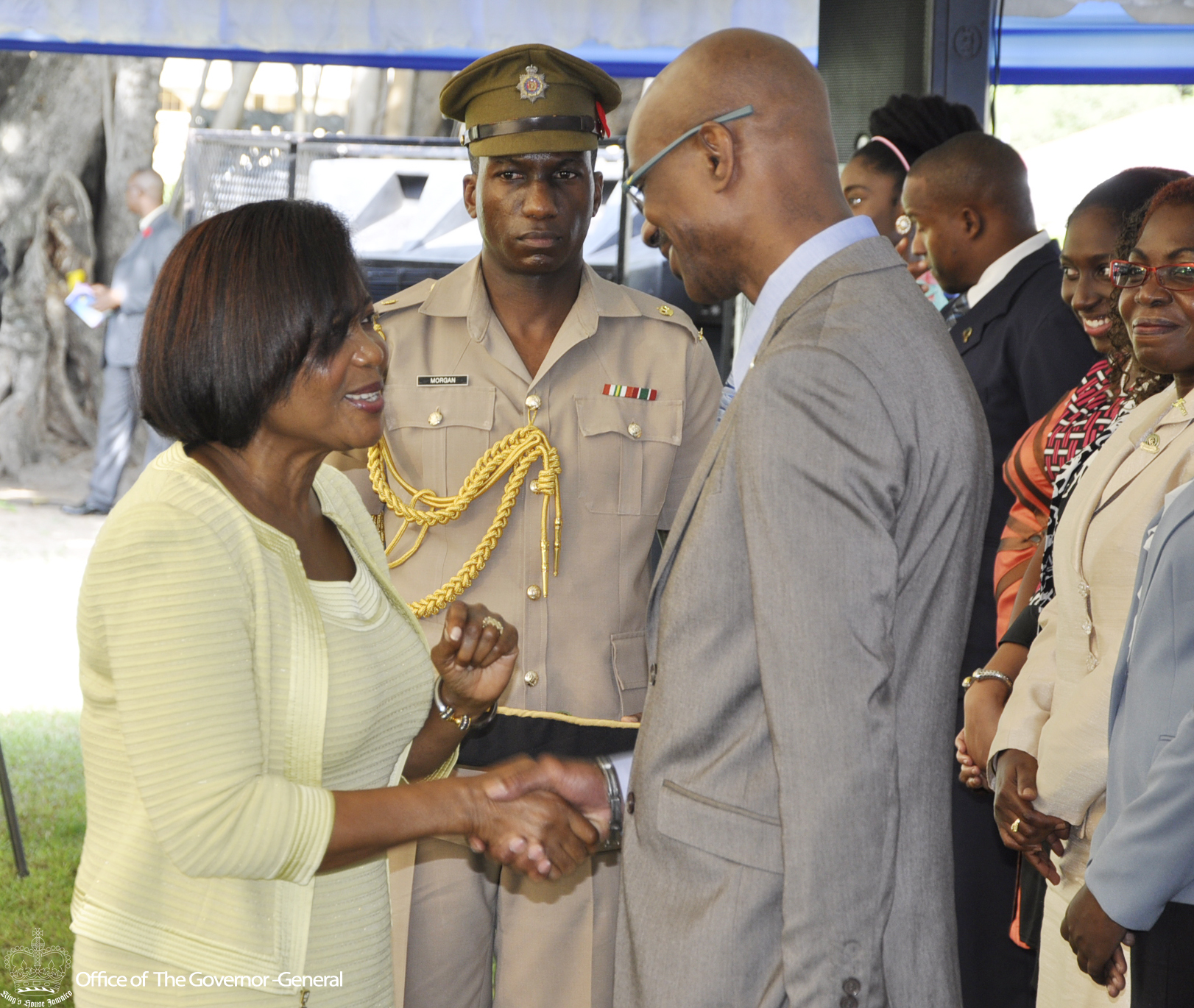 Thirty-nine unsung heroes from across Jamaica were recognized at King's House on Thursday (Nov. 10) by Governor-General Sir Patrick Allen for their altruism and active participation in community and voluntary initiatives that enhance people's quality of life.
The awards which were presented under the ambit of the Governor-General's Achievement Awards (GGAA) programme, acknowledge persons whose work and achievements promote community development and inspire others to see opportunities in every situation.
Among the outstanding recipients was Howard Anthony Harvey (Snr.) who, at age 16, wiped car windscreens on the streets of the corporate area in order to survive. Today he is the proud recipient of the Governor-General's Achievement Award for the parish of Kingston and, like his fellow recipients, accepted his official GGAA Pin from Her Excellency the Most Hon. Lady Allen.
Mr. Harvey's story of fortitude, endurance, determination and triumph is one that has left a solid impression on others. Due to a lack of resources the Norman Manley High School graduate had no subjects upon leaving school. However, his determination and passion for learning led him to the Young Men's Christian Association (YMCA) where his gained several subjects and matriculated into professional studies programme at institutions of higher learning.
Now a Master's graduate of The Mico University, Mr. Harvey is in the final stages of attaining a PhD in Educational Leadership from Temple University in the USA. Armed with data and information from his study of learning in marginalized boys, he founded the Swift Sons' Basketball Club and currently uses sports as a vehicle for young boys to access educational opportunities.
He and others were welcomed by Sir Patrick Allen into what the Governor-General referred to as the 'Distinguished League' of Jamaicans who have an illustrious tradition of excellence. "Here on this site, thousands of individuals have been conferred with national honours and awards for their sterling contribution to Jamaica. Today is your turn to as 2016 GGAA Awardees to be part of the rich history of King's House", the Governor-General stated.
The awards programme which is celebrating twenty-five years received high commendations from Sir Patrick Allen for promoting service that is transformative and promotes values and attributes such as teamwork, respect, neighbourliness, caring and equity.
He lauded the pace setting work of former Governor-General Sir Howard Cooke under whose patronage and guidance the programme started in 1991. He also applauded the emphasis placed on excellence in education and leadership and the recognition of the Diaspora by Sir Kenneth Hall who succeeded Sir Howard in 2006.
"The foundation is strong and the programme is dynamic" Sir Patrick Allen declared to rousing applause from the audience.
Custodes, parish committees and GGAA national coordinators past and present, as well as corporate sponsors, also received special mention for their contribution of the GGAA over the years. The Gleaner Company (Media) Limited, Jamaica National Building Society, Victoria Mutual Building Society and Scotia Jamaica Building Society are title sponsors since inception. The Jamaica Broilers Group of Companies and FLOW are the recent sponsors of the pioneering programme.