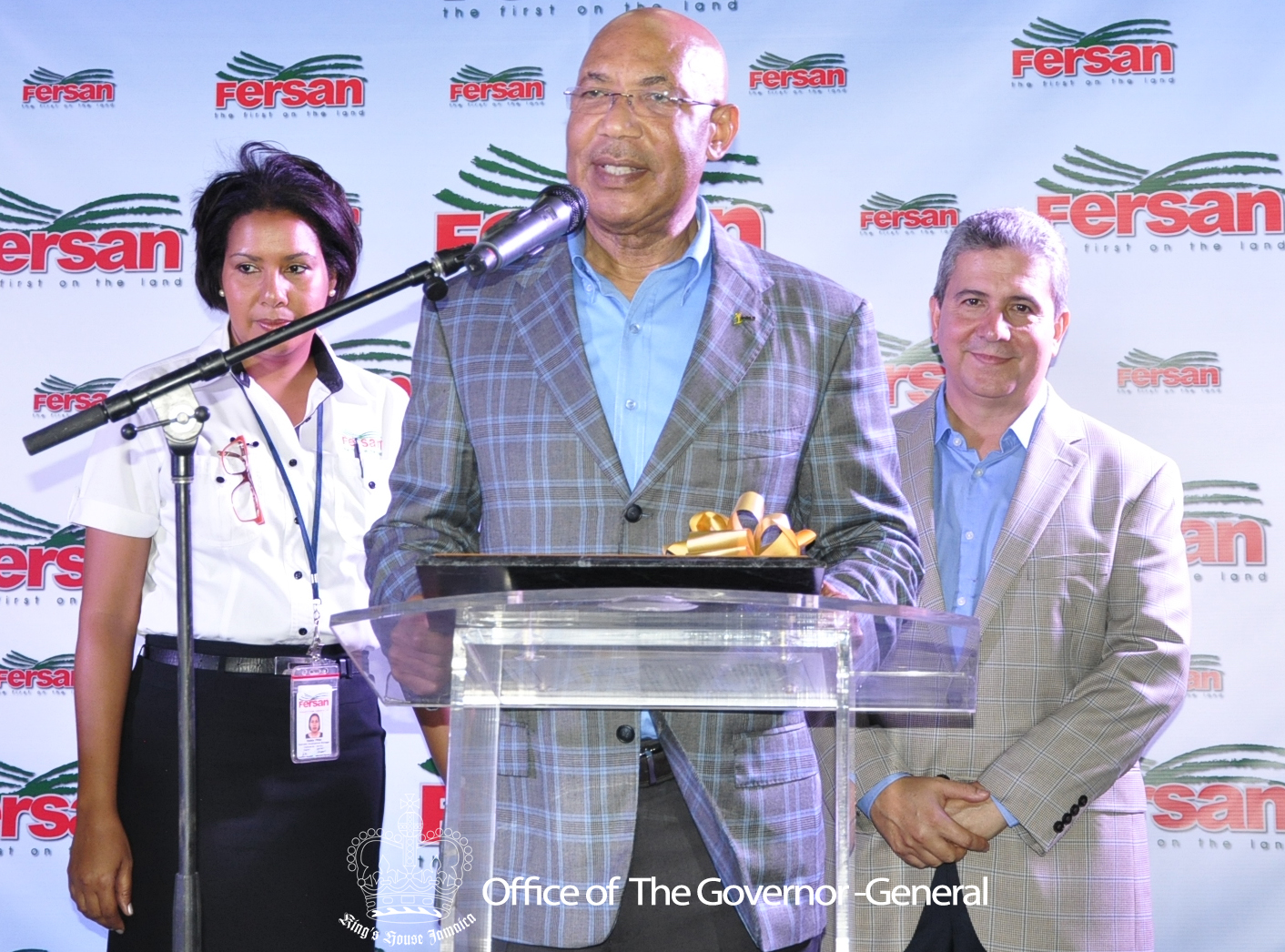 Governor-General Sir Patrick Allen is encouraging more businesses to provide support for education, so that they can have a supply of workers who will create the right culture to make them productive. "No one entity can bear the burden of educating our children. We must be the village that raise the child," he stated, adding that values such as trustworthiness, punctuality and commitment will prepare workers to be "true to duty as the needle to the pole." He was speaking at a welcome reception at Newport Fersan Jamaica Limited where he made a corporate visit on May 19, 2016 which included a tour of its manufacturing facility.
Sir Patrick Allen said loyalty, understanding, trustworthiness and the close relationship between Newport Fersan and neighbouring communities are among the reasons for its success, since the company started in Jamaica ten years ago. "A vast majority of workers are from communities in neighbouring Western Kingston. There is a symbiotic relationship where you support the community and individuals who work here are committed to the company," The Governor-General said.
He applauded the management and staff of Newport Fersan Jamaica Limited for their commitment to Jamaica, while observing that the company's philosophy to help individuals achieve their potential and give back to society, is in sync with the I Believe Initiative (IBI). "You are not only about making money, but impacting lives," Sir Patrick Allen said.
He had high praises for the support which Newport Fersan Jamaica Limited has given to The Office of the Governor-General, especially in creating a blend of fertilizer suitable to King's House's soil type. The company's Precise Nutrient Management System has generated more than 200 customized blends specially formulated for farmers.
The sole manufacturer of fertilizer in Jamaica, Newport Fersan Jamaica Limited has given critical support to the IBI since 2010. The company also provided a scholarship tenable at the University of the West Indies, during the 2014 staging of the IBI's Summer of Service Competition.
Sir Patrick Allen and Lady Allen were met on arrival by Mr Domingo Viyella, President and Chief Executive Officer of Newport Fersan, Mr Dennis Valdez, Managing Director and senior managers of the company.
The Hon. Desmond McKenzie, Minister of Local Government and Community Development and Member of Parliament for Western Kingston; Hon. Steadman Fuller, Custos of Kingston; Mr Norman Grant, President of the Jamaica Agricultural Society were among the guests present.