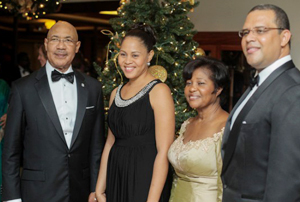 Governor-General Sir Patrick Allen says the Christian education he received up to the tertiary level, has made an indelible impact on his life and helped to shape his morals and value-system. 
Sir Patrick Allen, who was the keynote speaker at a fund-raising gala at the University of the Southern Caribbean (USC) in Trinidad and Tobago on November 27, also praised his parents and others for the values and lessons which they taught him, as well as for the positive examples that were part of his lived experience.  
 "I am who I am because of Christian education.  The values and lessons taught by my parents who were my first Christian educators, and later at Andrews University, have indelibly impacted my life," he stated.
The Governor-General asserted that in the Christian classroom, students learn to search for truths which are necessary for living balanced Christian lives. "Young people have to be undergirded by strong words, and faith-based institutions are suited for that," he noted.  He said the USC must prepare students to compete on a global scale and come to terms with the explosion of knowledge and the new world of high tech culture.  
Sir Patrick Allen applauded the USC faculty for their work in developing students and modeling the principles of faith, authenticity, sincerity as well as academic, spiritual and personal development.  "You have successfully integrated a Christian understanding of life into every academic discipline, and indeed into every heart, while still allowing for independent thought," he said.  "Thankfully we still have religious freedom in the Caribbean and this is a right we must vigorously protect," he added.
The Governor-General and Lady Allen were special guests of USC President, Dr Clinton Valley, and Mrs. Martha Valley.  The Gala event was held in aid of the University's Auditorium Rebuilding Fund.  The building which was gutted by fire in 2006, is to be replaced by a multipurpose facility to serve the University community.  
Sir Patrick Allen urged support for the USC's rebuilding project in order to allow the institution to "rise like the phoenix and rebuild bigger and better."
While in Trinidad and Tobago, The Governor-General and Lady Allen paid a courtesy call on President Carmona and Mrs. Reema Carmona.  The Governor General shared his "I Believe" Initiative with President Carmona and addressed a group of students who were in attendance at the courtesy call.    
Other activities during the visit included a brief address by The Governor-General at the USC's General Assembly, as well as the Divine Hour Service of the University's Sabbath Education Convention.  Their Excellencies were also guests at a Jamaican Breakfast hosted by USC President, Dr. Clinton Valley, and Mrs. Valley, which afforded them an opportunity to meet and greet members of the Jamaican community and other invited guests.  The Jamaican High Commissioner also hosted Their Excellences at lunch.