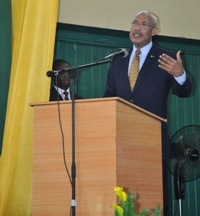 Governor-General Sir Patrick Allen says while adults must do their best to keep their children safe, young people should also heed the sound advice of parents and teachers and not engage in activity that puts them at risk.  He was addressing students, teachers and the Boards of Management of the Excelsior Schools while on a visit this morning.
Speaking against the background of the upsurge in violent crimes against children, Sir Patrick Allen said "I urge parents, guardians and teachers, in fact all adults to do your best to keep our children safe.  But I also want to put some of the responsibility on our children to listen to your parents and teachers when they are trying to guide you in the right way."   He encouraged the students of Excelsior High School to make use of every opportunity to improve themselves and build bridges to their future success which he said would enable them to make a positive difference in the country.
The Governor-General also had high praises for Excelsior High School whose contribution to nation building he described as solid and legendary.  "I am here with you today because I believe that you (Excelsior) are a part of what is right with Jamaica.  I believe in your capacity for excellence and that once you put your mind to it, the sky is the limit," he stated.
Meanwhile, at the Pre-Primary and Primary Schools, Sir Patrick Allen urged students to be attentive and participate in their classes. "Listen carefully; follow the instructions of your teachers and you will get higher.  You cannot get higher unless you build some solid foundations," he said.
The visit concluded with a tour of the Excelsior Community College and the viewing of displays by students.