Governor-General Sir Patrick Allen on Monday (Sept. 29) presented 10 computers and two tablet PCs to representatives from the IBI Villages of Albert Town in Trelawny and the Association of Clubs in Petersfield Westmoreland, as well as the Kingston Rotary Club's Back2Life programme at the Rio Cobre Juvenile Correctional Centre.  The computers were a gift from the Chinese Embassy. This is the second time that the Embassy is partnering with the I Believe Initiative in its effort to equip IBI Villages with computers.
In thanking Ambassador Dong Xiaojun, Governor-General Sir Patrick Allen said the computers will enable the IBI Villages to continue their support for young people and also guide their development so that they can contribute to nation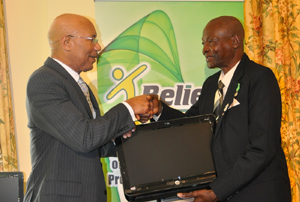 building.  "In order to get to developed state we have to educate our people. Your partnership (Ambassador Dong) will help to build confidence and capacity in our young people," Sir Patrick Allen said.
In his remarks, Ambassador Dong commended the Governor-General for the profound and positive influence which the IBI is having on Jamaica.  "We have seen a series of fruitful activities going on in youth development, education and family well-being," he stated.  The Ambassador added that with the rapid advance of science and technology, countries must master information technology in order to keep pace.  "It is in support of this insight that I have decided to donate more computers to contribute to the IBI endeavours," he declared.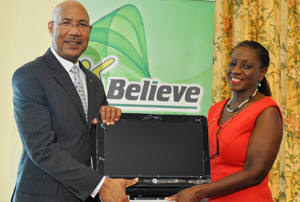 In the meantime, Ms. Lorna Phillips who responded on behalf of the recipients said that they were very appreciative of the gifts and that it demonstrated the Chinese Embassy's recognition of the value of investing in young people.
The handing over ceremony also recognized the 65th anniversary of the founding of The People's Republic of China which will be celebrated on October 1.  Sir Patrick Allen also had words of commendation for Mr. Xu who departs Jamaica this week after serving as First Secretary in the Chinese Embassy for the past three years.