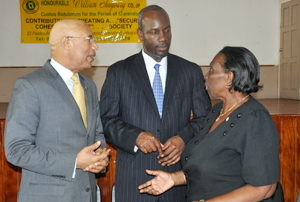 The Governor-General's Programme For Excellence (GGPE) is steadily gaining support from Justices of the Peace with JPs in the parishes of Clarendon and Hanover joining their colleagues in seven other parishes to fully endorse the programme and pledge support for its objective to transform Jamaica through the restoration of values. Since April, Governor-General Sir Patrick Allen has embarked on an island wide series of meetings with JPs in an effort to create what he calls "a network of proactive advocates of transformation for our island nation."  He met recently with Justices of the Peace in Clarendon and Hanover on September 23 and 30 respectively.
Sir Patrick Allen told JPs that the success of the GGPE depends on contribution
from a number of persons including Justices of the Peace, many of whom are Church Leaders, elders and deacons and also principal and teachers. "I appeal for your fullest cooperation and your leadership to spread the message of the I Believe Initiative in your respective communities and to encourage others to participate in the programmes," the Governor-General stated.
In responding to the call for JPs to be good role models and mentors who can help youth adopt the right values and a positive attitude, President of the Clarendon Lay Magistrates' Association Cloverlin Smith-Morris encouraged her fellow JPs to get involved in community programmes geared toward the realization of Vision 2030.  She said the message of the I Believe Initiative is a very powerful one and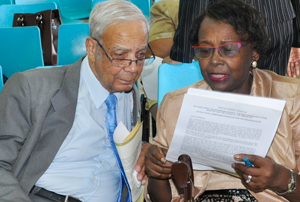 Clarendon JPs should redouble their efforts to lead and promote positive change in their communities.  "Excellency, we take seriously our role as peacemakers and pledge to work with Custos Shagoury to motivate youth and adults to participate in the programmes that you have emphasized," she declared.
Over in Hanover Justices of the Peace revealed that, thanks to their meeting with The Governor-General, they are now fully informed of how they can use the GGPE to transform their communities. In answering Sir Patrick's call to encourage youth involvement in the programme's initiatives, many gave positive responses to the lobby for youngsters to get involved. Zooming in on one such project, the upcoming Youth Consultative Conference, the Hon. David Stair, Custos Rotulorum for the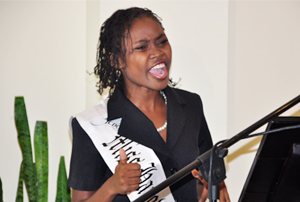 Parish of Hanover, signaled his availability to meet with them to make the necessary arrangements for the Hanover participants.
President of the Hanover Justices of the Peace Association, Rev. Glenory Clarke said that the JPs appreciate The Governor-General's effort to meet with them in their parish. He said that the association is committed to being integral in this network of proactive advocates and thanked him for his vote of confidence in their abilities to be effective in this area.
The curtains closed on the Hanover ceremony with a buoyant performance from the Miss Hanover Festival Queen, Andrene Hutchinson, who boosted the audience with
her motivational piece 'I Believe.'