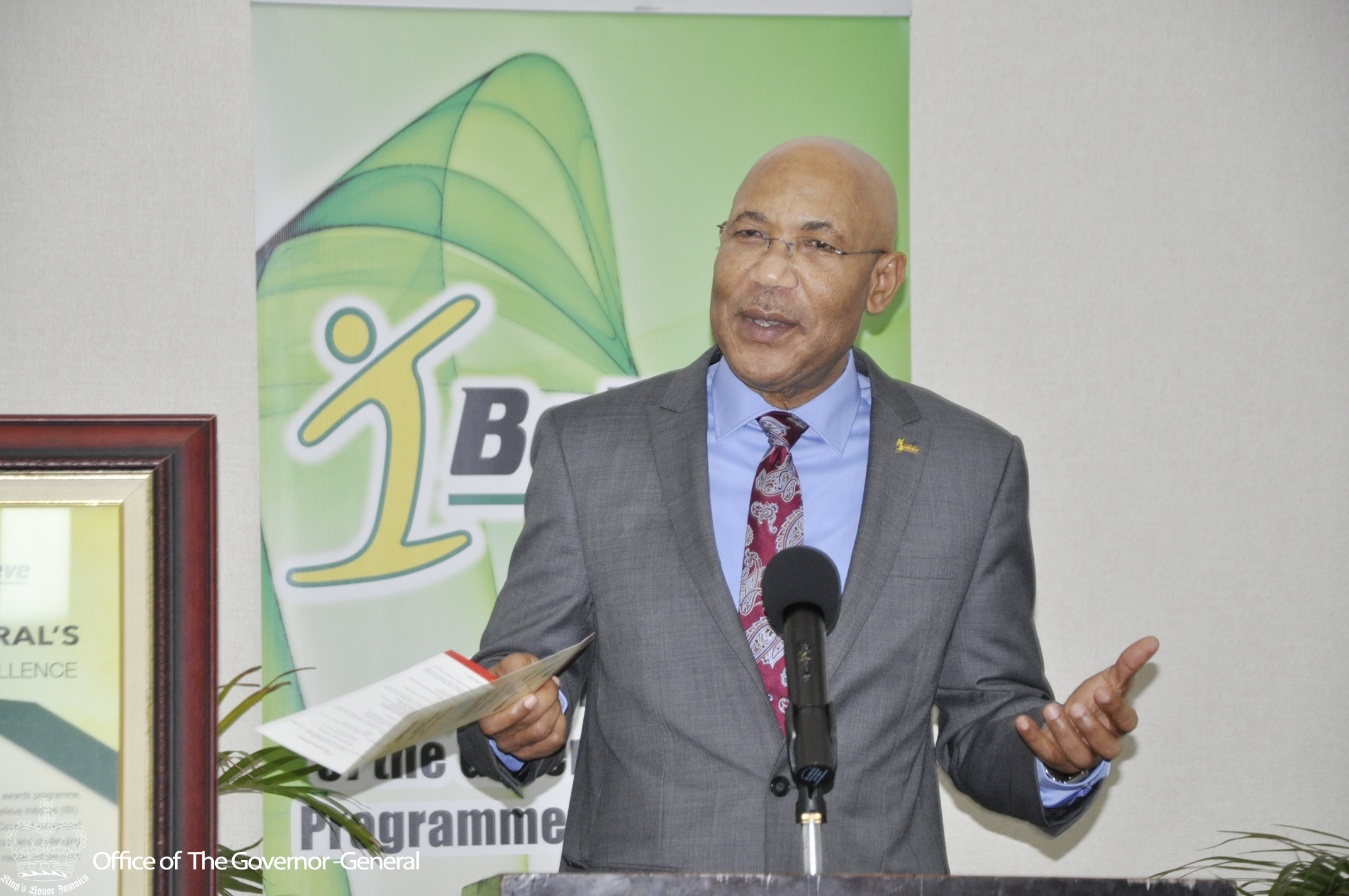 The I Believe Initiative (IBI) launched by Governor-General Sir Patrick Allen in 2011 ended its fifth year on a high, adding ten new Ambassadors to its cadre and His Excellency's endorsement of four impactful, transformative and empowering projects from among this year's Ambassadors.
Hanif Brown, Rory Frankson, Tatayana Graham, Romaine Kenton and Constable Jovan Kerr are the 2016 Ambassadors inducted at the Annual IBI Luncheon held at the Spanish Court Hotel in Kingston on Tuesday (November 29, 2016). Joining them are Glendon Martin, Daren Miller, Santana Morris, Odayne Haughton and Keenan Falconer.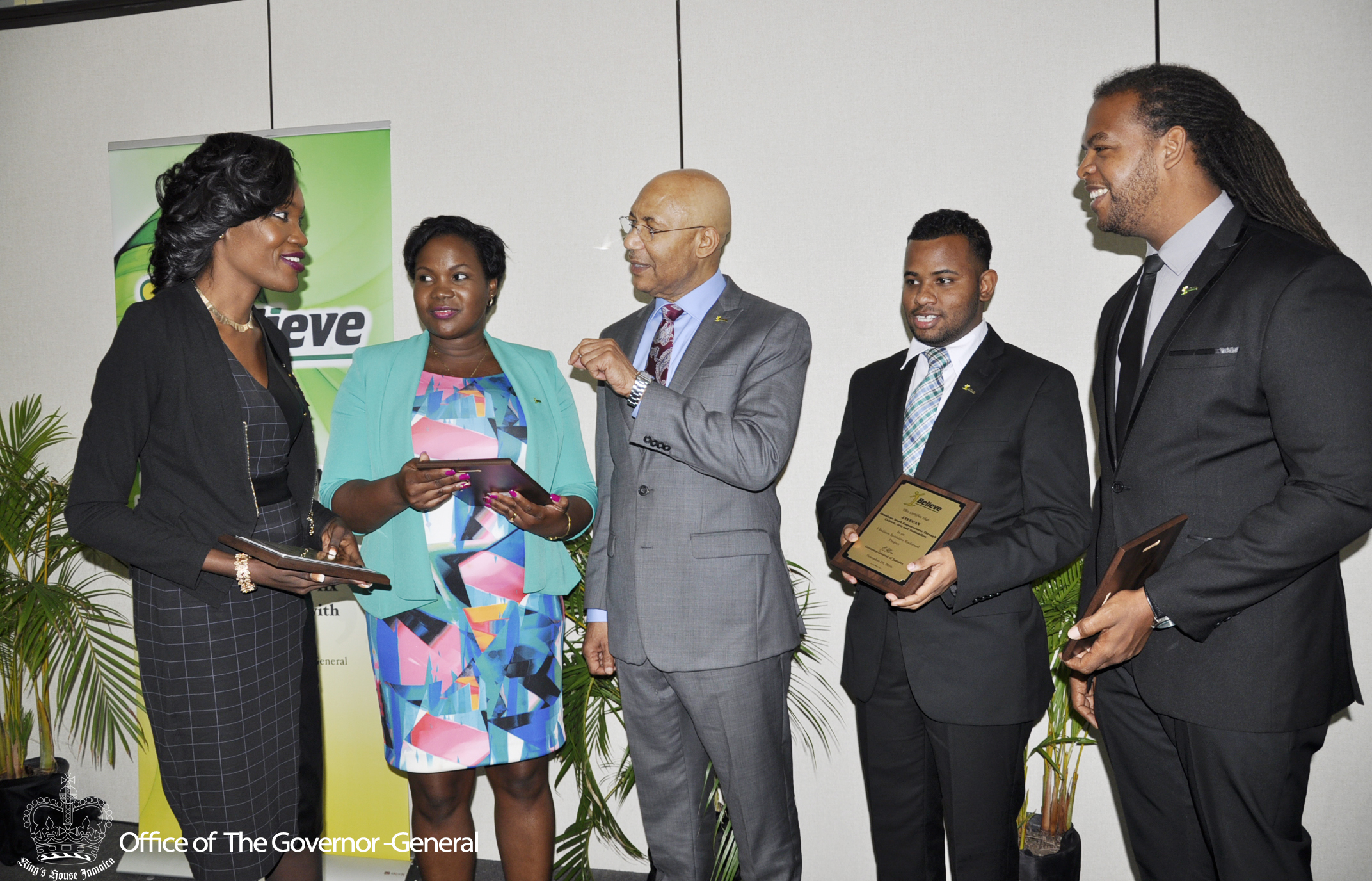 The projects endorsed by Sir Patrick Allen include JAYECAN, a youth empowerment initiative of IBI Ambassador Abrahim Simmonds and The Little Genius Competition of Ambassador Tishauna Mullings. Mr. Simmonds has since been named Queen's Young Leader for 2017 while Miss Mullings was a participant in this year's President Obama Youth Leaders of the Americas Initiative.
The other two projects are "My Dream" by Life Transformational Solutions headed by Ambassador Cordell Williams Graham and the Rory Frankson "I Believe" (musical) Tour.
In his remarks, Sir Patrick Allen said that as Jamaica celebrates fifty-five years of independence in 2017, IBI Ambassadors should seize the opportunity to let the initiative make its most significant impact ever.
"I want us to commit today, that next year we will redouble our efforts to ensure that our programmes and activities create tangible pathways for restoring hope, belief and sound values in Jamaican families, our youth, as well as our system of education," the Governor-General stressed.
He also had high commendations for the IBI's major sponsors including the Embassy of the People's Republic of China which has contributed $4.1 million for the implementation of IBI projects.
"Their generosity of spirit has given us the opportunity to make meaningful contributions of audio visual equipment, classroom furniture, laptop computers and desktop computers to IBI satellite campuses and outreach projects in Trelawny, Westmoreland, St. Catherine and Portland," Sir Patrick Allen stated.
The beneficiary institutions are the Albert Town Edu-Skills Centre in Trelawny, the Association of Clubs in Petersfield Westmoreland, Spring Village Foundation in St. Catherine and the Sherwood Forest Primary School in Portland.
The IBI's vision is the creation of a patriotic and motivated citizenry that is committed to community and national development by using what is right with Jamaica to fix what is wrong with Jamaica. Approximately 200 persons are members of the IBI Ambassadors programme.