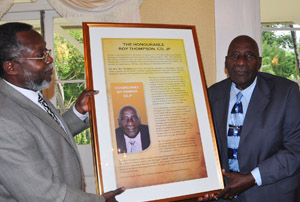 Governor-General His Excellency the Most Honourable Sir Patrick Allen, has charged Custodes to be change agents in their parishes and give leadership to a 'rescue package' that will pull Jamaica back from looming destruction.  Speaking at the annual Custodes Luncheon at King's House on February 27, Sir Patrick Allen said that recent events which have unfolded in Jamaica, especially those affecting infants and young children, suggest that the country is at a tipping point.  He said the 'survival package' which he called for in his inaugural address on February 26, 2009, remains even more relevant today.
"Honourable Custodes, your role is critical to this process of developing a rescue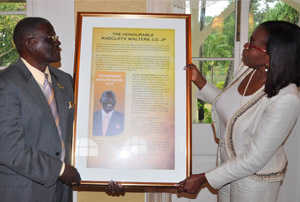 package. Resolve to be change agents in your parishes, as we work to pull Jamaica back from looming destruction. We too must be deliberately seized with the responsibility to set about restoring the morals, the values, and the principles on which our forefathers built this nation," the Governor-General said.
He stated that in order to realize the goals set out in the 2030 Vision, Jamaicans must use the tools and resources available in our collective experiences, our skills, aptitude and knowledge, to continue the process of building the nation.  "As the first citizen in the parish, you are vested with the authority and the moral suasion and you give leadership to the most influential persons – the Justices of the Peace. Use the tools that are available to you and let's together continue the building process," urged The Governor-General.
Sir Patrick Allen also paid tribute to three retiring Custodes – the Hon. Radcliffe Walters, the Hon. Roy Thompson and the Hon. Wilfred Nembhard, for their commitment to the people of Jamaica, as displayed in their service to the parishes of
St. Ann, Portland and St. Elizabeth respectively.
In their remarks, the retiring Custodes said they were grateful for the opportunity to serve their country and spoke favourable of the Governor-General's programmes – the I Believe Initiative and the Governor-General's Achievement Award – for unearthing hidden talents and giving purpose to peoples' lives.