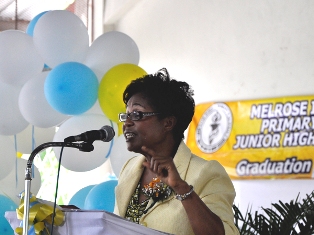 Over 130 graduates of the Melrose Infant, Primary and Junior High School were encouraged by Her Excellency the Most Honourable Lady Allen, to relinquish the 'anything goes' mentality and instead adopt new values that will aid their transition to the next phase of their lives.
Lady Allen, who was guest speaker at the school's graduation ceremony held at the Macedonia Seventh-Day Adventist Church on July 3, 2013, said that our society has experienced limited progress because of the nonchalant approach taken to life.
"In our society today, many parents/guardians and students have gotten stung by the 'anything goes' bug…We have not progressed as much as we should have in spite of our capacity and God-given potential.  And we may ask the question why?  Simply put, some of our people have taken a 'whatever' approach, not conforming to the rules and norms of our society," said Lady Allen.
However, she lauded the institution for not accepting that popular belief but instead remained faithful to the school's motto "Only the Best is Good Enough."  She commended the principal and teachers of the institution who, she said, had ensured that this had become a part of the personal motto of the students, especially those leaving the institution.
Among the accomplishments highlighted by Lady Allen were the partnerships established between the institution, the European Union and the Jamaica Social Investment Fund. Those partnerships, according to her, resulted in the improvement of the school's image as well as provided additional facilities geared towards improving the overall performance of the students.
Another project, the multi-faceted Enrichment Centre established through a joint initiative by the Ministry of Education and the Digicel Foundation group, also received praise from Lady Allen.  The Centre is used to improve the level of literacy and numeracy at the primary level.
"This graduation exercise is not an end but marks the start of a new, but important phase in your educational journey. Let me remind you that getting an education must be your priority,' Lady Allen advised the proud graduates. She then went on to encourage them by saying:  "Do not spend one minute worrying about where you are placed – bloom where you are planted!"