Trevor Heaven, President of the Lay Magistrates Association of Manchester, has endorsed the Governor-General's Programme For Excellence (GGPE) and said Justices of the Peace for the parish must provide the tools to assist children and young adults to realize their full potential.  He was responding to a call by Governor-General Sir Patrick Allen for JPs to help drive the transformation of Jamaica through the restoration of values.  The call came as Sir Patrick Allen continued his island-wide parish meetings with Justices of the Peace at the Golf View Hotel in Mandeville on Thursday, September 18.  Seven parish meetings have been held since the start of the year.
Mr. Heaven stated that "without vision and determination we shall all perish," but
quickly added that the GGPE as outlined by Sir Patrick in his address to the JPs spoke to core principles and concepts such as self-assurance, national pride, dignity, responsibility, family values, hope and courage, which he said are tools that JPs must use to help children and young adults to find themselves so they can "rise and soar."
In the meantime, Sir Patrick Allen said that as most Jamaicans want the best for their country, a new day and an enlarged vision has arisen for Justices of the Peace.  He told the Manchester JPs that they and the approximately 10,000 Justices of the Peace across the island must be at the forefront of efforts to take back Jamaica from crime, mediocrity and negativity.  "You were selected to become Justices of the
Peace because you have influence in your communities and the public has confidence in you.  It is from this position of positive influence that I encourage you to become proactive advocates of the transformation of our island nation," the Governor-General stated.
He said the GGPE's programmes, namely the Governor-General's Achievement Awards (GGAA) and the I Believe Initiative (IBI), will be used as vehicles of transformation through which Justices of the Peace will empower young people and make them agents of change.  In this regard, JPs are reminded to recommend persons from their respective communities for recognition under the GGAA.  JPs are also asked to identify youth delegates for the Youth Consultative Conferences in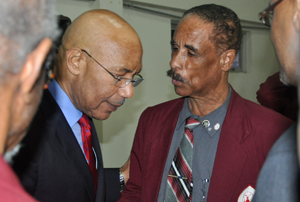 each County.  The conferences will be held in October and will focus on employment and business opportunities linked to the Global Logistics Hub.
In Closing, Sir Patrick Allen said that despite the challenges JPs must not allow the lamp to go dim on Jamaica.   "The lamp must not go dim on Jamaica.  We have shone too brightly and I don't think we have done enough yet," he concluded.
The Honourable Sally Porteous, Custos Rotulorum for the parish of Manchester and Her Worship, Councilor Brenda Ramsay, Mayor of Mandeville, also addressed the function.