A member of the deaf community and a medical doctor were the highlight of the Governor-General's I Believe Initiative (IBI) Summer of Service (SOS) Awards Presentation Ceremony held at King's House this morning (August 22, 2017).
Celine Lobban, a graduate of the Lister Mair Gilby High School for the Deaf was awarded a full scholarship to cover her 4-year Bachelor of Science Degree in Computer Science at the University of Technology, Jamaica.While, Angelica Baker who was among the first cohort of SOS recipients in 2013 was presented as Dr. Angelica Baker having successfully completed her Bachelor of Medicine Degree at the University of the West Indies (UW), Mona.
There are eight beneficiaries of this year's SOS Competition who obtained scholarships valued at J $7millions to start or proceed to second year at various colleges and universities. One recipient will attend the University of the West Indies, two the University of Technology, Jamaica, one the College of Agriculture, Science and Education, one the Caribbean Maritime Institute and two the opportunity to advance to the second year of their degree programme at UWI, Mona.
In delivering an inspiring address Governor- General Sir Patrick Allen commended the recipients and charged them to be critical thinkers who are transformed by their education to continue in the nation building process.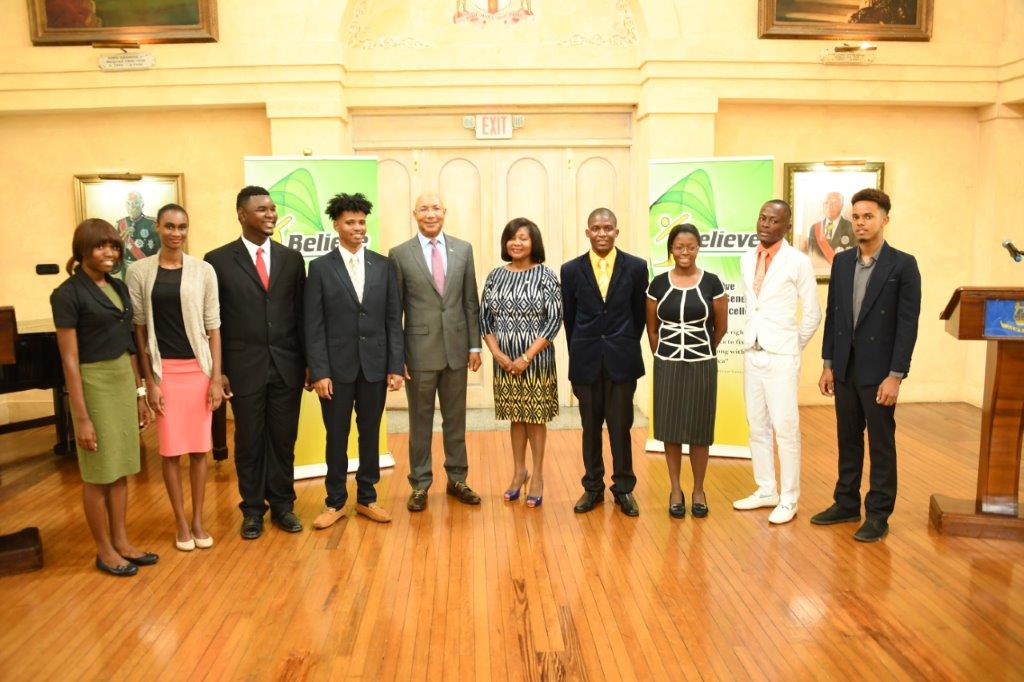 "Recipients … keep in mind that the principal demands being made of twenty first century workers include creativity, critical and divergent thinking, self-awareness and integration of Knowledge. It is not just a matter of cramming and reproducing what was taught," The Governor-General stated.
"You will have to play your part to ensure that your quest for higher education prepares you to cope with the rapid social changes at the national and global levels. Your going to college or university must be a transformation. You cannot go like "Johnny Cake" and come back like dumpling." His Excellency continued.
In highlighting the sacrifice of giving up their Summer Holidays to volunteer with various organisations, His Excellency commented that the students' attitude is "that of future leaders of our country."
"They do this not just for themselves but for the greater good," Sir Patrick Allen said.
The Summer of Service Competition is a project of the Governor-General's I Believe Initiative where students volunteer with various organization in exchange for valuable life skills plus tuition support for their tertiary education. The project seeks to influence social responsibility and nation building through voluntary experience.
It is part of His Excellency's broad vision to partner with various stakeholders to build hope, confidence, and a heightened sense of purpose and sound values through family, youth and educational activities.
Now in its fifth year, the SOS Competition has provided tuition support to a total of 53 students. The annual application process opens in May and the service component is executed during the months of June to August.
The University of the West Indies, College of Agriculture, Science and Education, Sandals Foundation, NCB Foundation, Kingston Bookshop, J. Wray & Nephew Foundation, Kingston Wharves Limited and the Joan Duncan Foundation/JMMB were this year's partners.
The eight awards recipients in the 2017 I Believe Initiative (IBI) Summer of Service (SOS) Programme executed their voluntary service at The Mustard Seed Communities, Clarendon Youth Information Centre – Youth Empowerment Camp, The iAspire Project, Hyacinth Lightbourne Visiting Service, The One-Chair-One-Child Project, and The Green House Development Project.