A delegation of over thirty members from the Japan International Cooperation Agency (JICA) made a Courtesy Call on Governor-General, His Excellency Sir Patrick Allen, on Wednesday (October 7, 2015), on the heels of the departure of the brief state visit of Japanese Prime Minister, Shinzō Abe.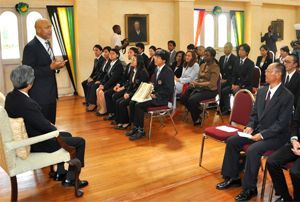 The Courtesy Call was in commemoration of the 50th Anniversary of the Japan Overseas Cooperation Volunteers worldwide, the implementing arm for the Government of Japan foreign programmes.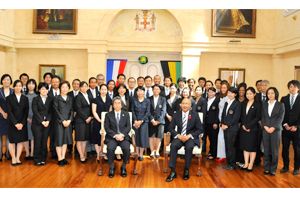 The entity which, last year, celebrated 25 years of service to Jamaica, continues to pursue development possibilities for the government of Japan to deploy volunteers and technical assistance to Jamaica in Manufacturing, Industries, Education and other areas.
In welcoming the team to King's House, His Excellency stated that, "As a people, we are very warm towards the Japanese. Part of the reason is the extent to which Japan has embraced Jamaica and Jamaican Culture."
He further commented that, "You [the Japanese] are vey intentional in the way you help to strengthen our structure, in the way you have chosen to help – education, agriculture and environment. Especially, assisting with disaster mitigation is very critical for us."
As the Governor-General wished the outgoing volunteers from the delegation "bon voyage' he told the incoming set to, "Have a good time in Jamaica" and that "as you [they] give of yourselves and immerse in various areas of work. Let it not be all about work, work, work but enjoy our culture."
The Governor-General also commented that the recent visit of the Japanese prime minister to Jamaica will definitely go a far way in cementing the relationship and goodwill between both people.
The Japan/Jamaica association will celebrate 30 years of existence in 2015 and in friendly gesture His Excellency quipped that "50 years ago, way before International Jamaica Track Star, Usain Bolt Jamaica and Japan had being doing the To the World.
The Delegation
The delegation included:
Head of Mission – His Excellency, Masanori Nakano; Resident Representative – Mr. Kenji Tobita; Volunteer Coordinators – Mr. Makoto Marabe and Mr. Minora Ikegami; Ms. Lorna Wallace Senior – Programme Officer; Mr. Hideki Shinozaki – Second Secretary among others.